A farmhouse decor is inspired from a farmhouse building, including its interior and exterior decoration. Such building can be found in a rural area or agricultural area.
Typically, a farmhouse building is accompanied by another building that's called a housebarn, in which farmers put their crops and animals. Each country has a specific farmhouse building style.
For example, in United States, a farmhouse is typically built with rectangular floor plan and central fireplace that's doubled as a heating and a cooking device.
Moreover, the constructions often come from local materials.
Briefly explained, you can understand why this particular style is admired by a lot of interior design fans.
From several reasons, people choose to apply a farmhouse decor to their house because its rustic interior gives a warm and cozy feelings.
Moreover, this decoration style offers a traditional touch on the furniture. If this is the style you're looking for, you need to keep reading.
What is Farmhouse Decor?
Farmhouse decor is often referred to as a style that introduces rusticness, warmth, traditional and chic. Even though it seems vintage-ish, a farmhouse decor can be combined with modern touch style.
At this point, perhaps, it's still difficult to imagine how a farmhouse decor is. However, one of the most noticeable characteristics of this particular design is its clean-lines.
Then, what are the other characteristics?
Other traits of a farmhouse decor are simple, functional and rustic furniture.
The simplicity offered by a farmhouse decor can be seen from color and basic material of the furniture.
For example, this particular style prioritizes neutral colors. As we know, colors create statements of the space.
Now, do you remember that a farmhouse decor likes to keep it clean?
To accentuate the cleanliness, you can choose bright or neutral colors that also emphasizes rusticness.
When it comes to functionality, it's related to how the furniture is arranged. On another note, this style makes functionality and practically its priorities. Decorative matters are placed the second afterward.
Talking about furniture, farmhouse decoration needs rustic-inspired elements, which is usually shown by wooden material.
Hence, these are some steps to designing a space with a farmhouse decor.
Read Also:
How to Decorate Farmhouse Style
At this point, you may be interested to start decorating your space with farmhouse style.
Here, we've provided two easy tricks to give your farmhouse space a unique and distinct character.
What are these tips? Well, here we go!
Focus on Practicality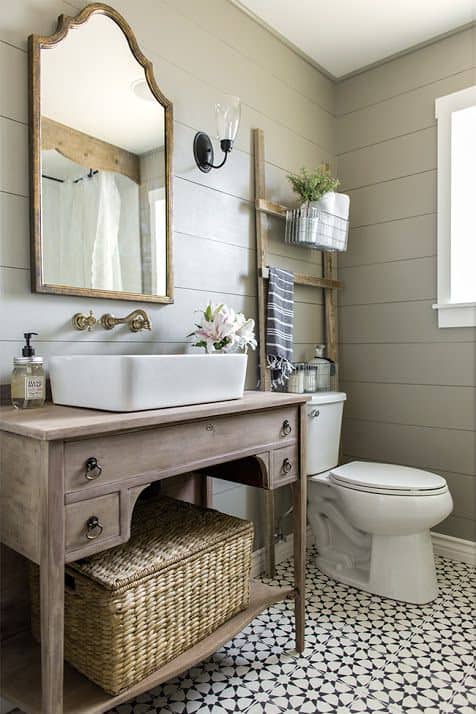 You may have a question, why does this style concentrate on practicality so much?
The answer is easy, which is practicality comes from the origin of its existence. A farmhouse decor consists of hand-me-down furniture. These furniture may be inherited from family or relative.
Other than that, there's a great chance that you'll find old, rustic pieces of furniture in a thrift shop or flea market.
Wait… why should we decorate the style with probably-half-broken things?
Well, that's the key of a farmhouse decor! There's a combination between old, vintage things with modern touch.
Even though the furniture seems rustic, an addition of modernity, such as a stainless steel appliances (farmhouse kitchen design) may be added.
Because this style emphasizes more on practicality, it's not recommended to spend too much time planning and calculating the look. In other words, it has to appear effortless.
Practicality also forces you to focus more on the function of each decoration element. It'll be perfect if the rustic cabinetry used in your farmhouse kitchen has multiple storage system.
Commonly, people will buy furniture because they like how it looks and they think the furniture can complete the design.
In a farmhouse decor, it's not the pleasure of buying that should be prioritized, instead, the meaning of the piece.
An old, rustic coffee table must have a different value than a brand new table, right?
In a farmhouse decor, vintage pieces can be a major additional value. How so? Well, vintage pieces must hold certain value.
It was used by other people before you, meaning that it has a backstory of its own. Isn't it interesting? The bottomline is a farmhouse decor makes quality a priority.
Make A Priority of These Decoration Elements
An amazing farmhouse style should be supported by gorgeous decoration elements, too.
Though it may be confusing, this list will help you to untwine which element you should buy first.
These may not be much, but these are some of the most distinct characteristics in a farmhouse decor. Let's have a look!
1. Reclaimed Barn Wood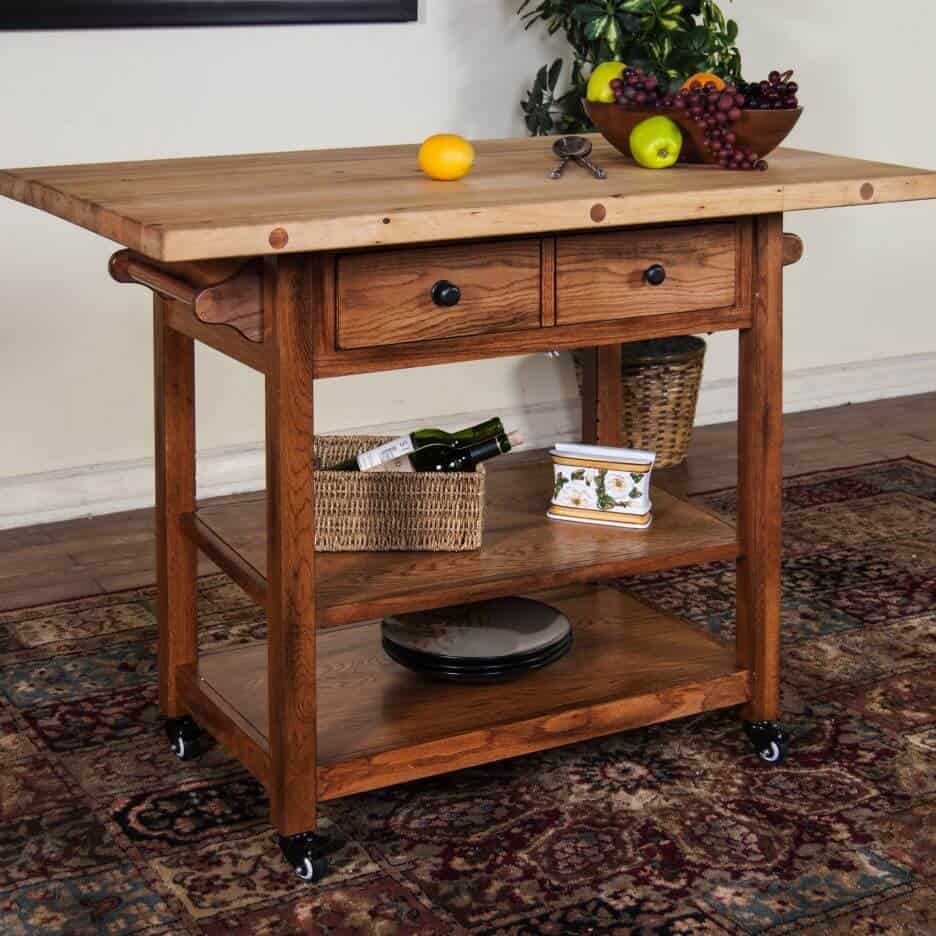 One of the most eye-catching elements of a farmhouse decor is its reclaimed barn wood. This type of wood can be found attached on wall, ceiling, floor, part of cabinet and other furniture.
Why do we have to use a reclaimed barn wood? —you may ask.
As it has been used beforehand, a reclaimed barn wood will give your farmhouse space a story and a strong character.
2. Exposed Wood Beams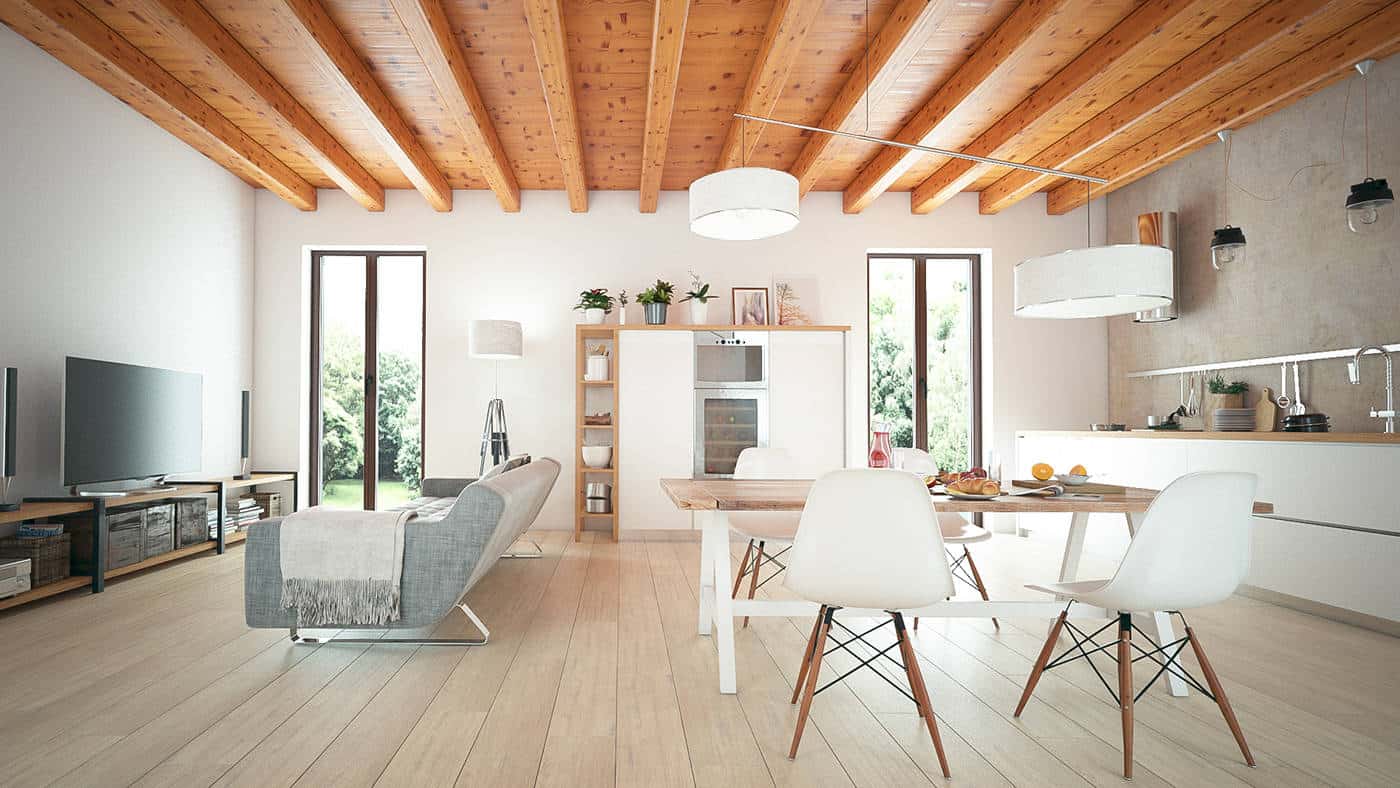 Okay, what's the difference between a barn wood and an exposed wood beam?
An exposed wood beam is used on the ceiling. Its look gives the entire space a grandeur of architectural detail.
Moreover, the color also maintains a natural atmosphere inside of the room.
3. Vintage Elements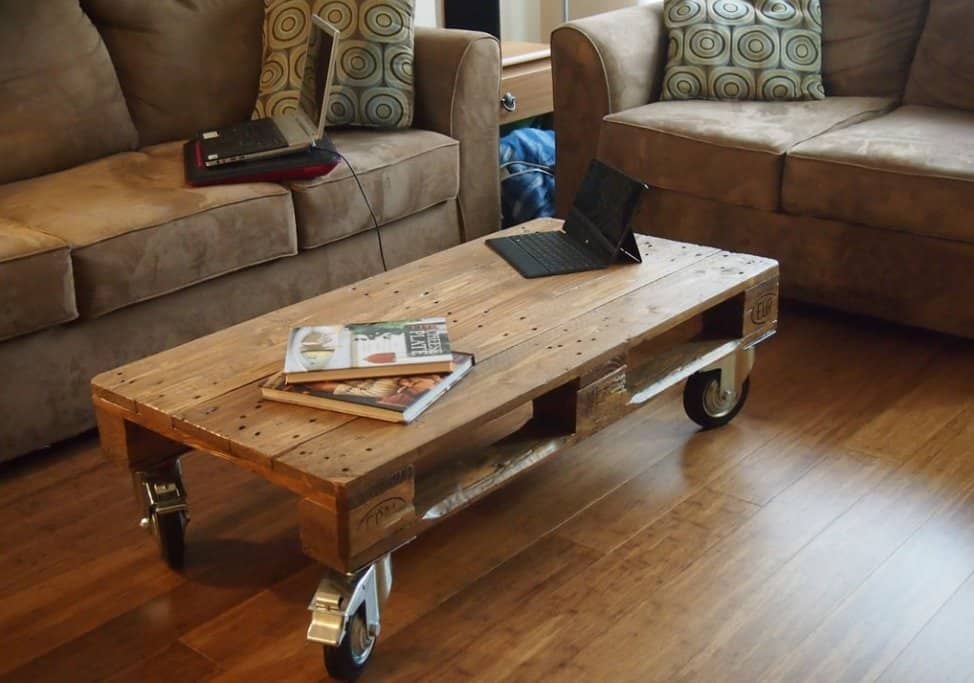 Why does a vintage element important?
In this matter, vintage furniture holds an important key.
However, you don't want to fill the entire space with vintage stuff, because it'll be too much. Decorate the space with some vintage furniture, such as the coffee table that is made of rustic, vintage chest.
Another alternative is to pair your vintage sofa with rattan chair or wicker basket to accentuate the country feeling. Use only one or two rattar chairs or wicker baskets.
Remember to always go with a simpler design! A farmhouse decor wants you to focus on the function more than the sophistication or the price of the piece!
So, has any inspiration of a farmhouse decor come to mind? Hopefully this article can help you find the vision.