News
The at-home after-party was a special touch.
---
Restaurant weddings remain a popular choice for food-loving couples planning their future Big Days. Not only is a delicious menu practically a given, but it also lets you share a space that's special to your relationship with the people you love most. Such is the case with this Talula's Garden wedding, during which the couple (a local yoga instructor and attorney) made sure their 70 guests were well fed, had fun and could take part in their special Big Day, their way, of course. And that all came to pass, from the self-uniting ceremony to the after-party the couple later chose to throw at their new South Philly home. Here, their good taste, all captured by Stephanie Barone Photography.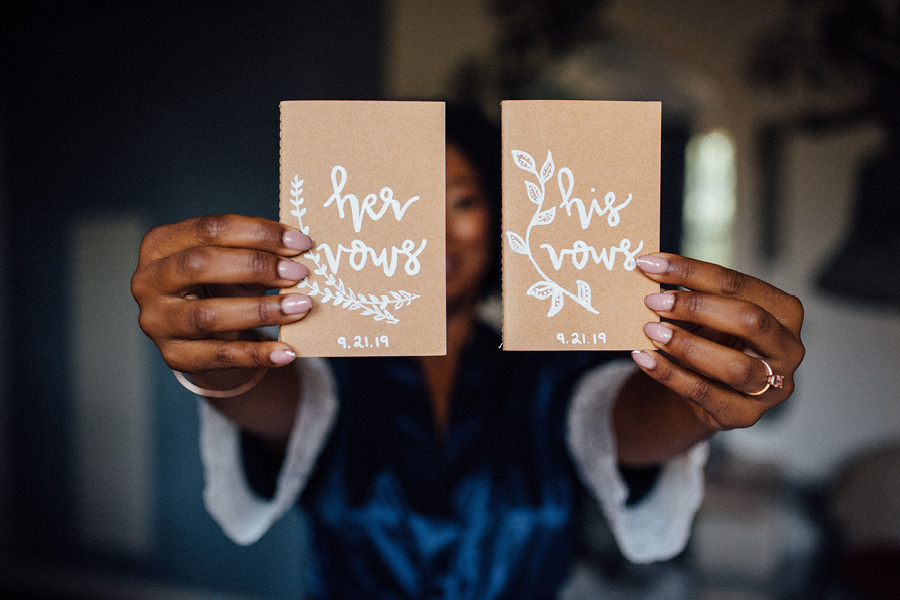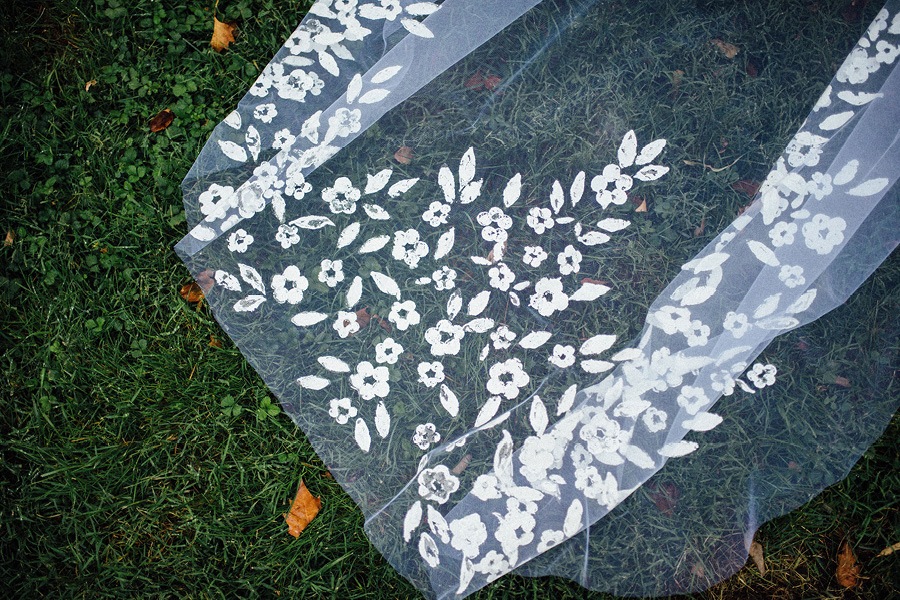 Dancing seems to be the universal connector in this week's wedding stories — from a future bride who was impressed by one fella's skills to Adriana Adelé Akintobi and Shane Christopher O'Halloran. The South Philly couple met in college, at a concert in the student union building's venue, when Shane asked her to dance. "I had seen Adriana around campus and we had some friends in common, but I hadn't managed to catch her eye yet," says the Valley Forge native, who today is an attorney with Morgan Lewis. "I summoned the courage (despite terrible dance moves)." It seemed to work, because her first impression was that he was cute, fun and "quickly felt like home," says the Atlanta-born Adriana, who now teaches yoga at Three Queens and Maha Yoga in Philly.
It's a good thing they had mutual pals, because Shane had to call Adriana's best friend at the time to get his first date with her (she accidentally gave him the wrong number). He invited her to a "dress-up party" his house was throwing. "[It] seemed like a good opportunity to 1) see Adriana and 2) show her that I was sophisticated and classy," he says. He asked her what she liked to drink (whiskey); not knowing much about her beverage of choice, he bought her a bottle of cognac, which she didn't touch all night. Actions speak loud, however, and Adriana was impressed. "He was thoughtful and attentive to me the whole time, and also was exactly who he is — sociable and friendly, and down for a good time."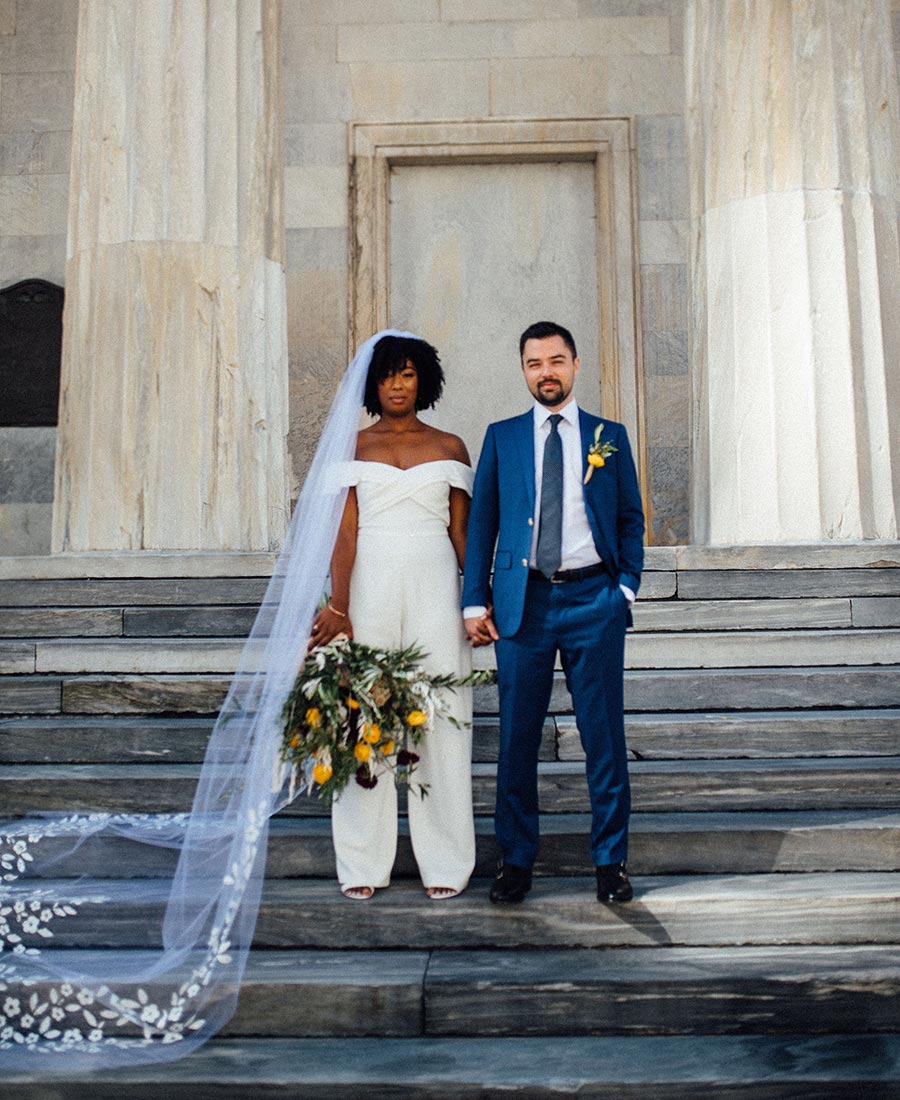 Six and a half years later, they got engaged while at Shane's parents' house on Thanksgiving. Family is important to the couple, so Shane arranged for her mom to fly up. He also knew Adriana would want to look nice in the photos that would ultimately result, so he (and their families) told her they were having a photographer come take Christmas card pics. Shane planned to tempt her onto the back deck for coffee, where his family would be hiding. "She agreed … but because she wasn't wearing any shoes, she started putting on my dad's slippers," Shane recalls. "I made some hurried excuse about why she shouldn't wear them, and out we went." He got down on one knee and she said yes. Back inside, her mother was in the kitchen to congratulate her. "Adriana was taking the lead on cooking dinner that year, so perhaps my timing wasn't great, but I think everyone had enough champagne that they overlooked any culinary issues," says Shane.
The two took their time to say "I do," waiting two years and 10 months as they made career changes, bought their first home and became dog parents. But their Talula's Garden wedding was everything they wanted — and well worth the wait. "We didn't have a theme," the couple recalls. "We just had priorities: for everyone to be well fed and taken care of." They chose to have a cozy 70-person brunch celebration at the restaurant followed by an after-party at their new house. Part of the reason the wedding was on the smaller side, after all, was to save money to buy their abode, so they wanted to show off their shared future together and break in the space with loved ones.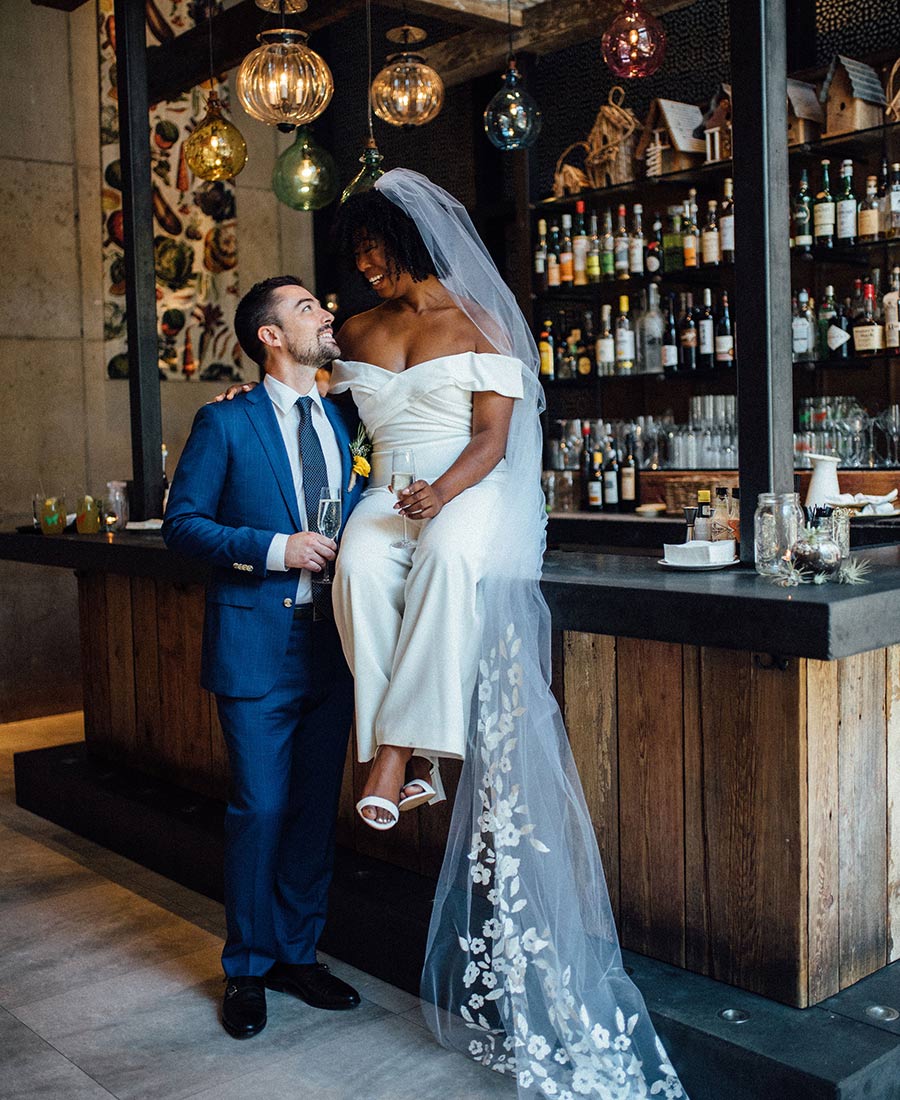 Warmth and personalization were expressed from start to finish. They chose a self-uniting ceremony; Shane's 90-year-old grandmother and Adriana's mother served as witnesses. "We thought it was an appropriate symbol of our families being joined together," he says. And the couple took to heart some advice Adriana got about getting hitched: After you're pronounced husband and wife, take 30 seconds to look out at your guests and take it all in — the love, the happiness and the moment. "For me, that was it," she says. "We exchanged our vows, and Faith [the Violinist] started playing an instrumental of 'September' by Earth, Wind & Fire. And I just looked out and felt my heart overflow with gratitude."
As for the decor? The couple chose to let the space's "beautiful, quirky, fun" ambiance speak for itself. They had a 15-foot-long eucalyptus rope behind them during the ceremony; it now is on their banister. And while Adriana's bouquet was an over-the-top, wild arrangement of dahlias, ranunculus and rosemary, they left the tables fairly natural, accented by terrariums and air plants (which also served as favors).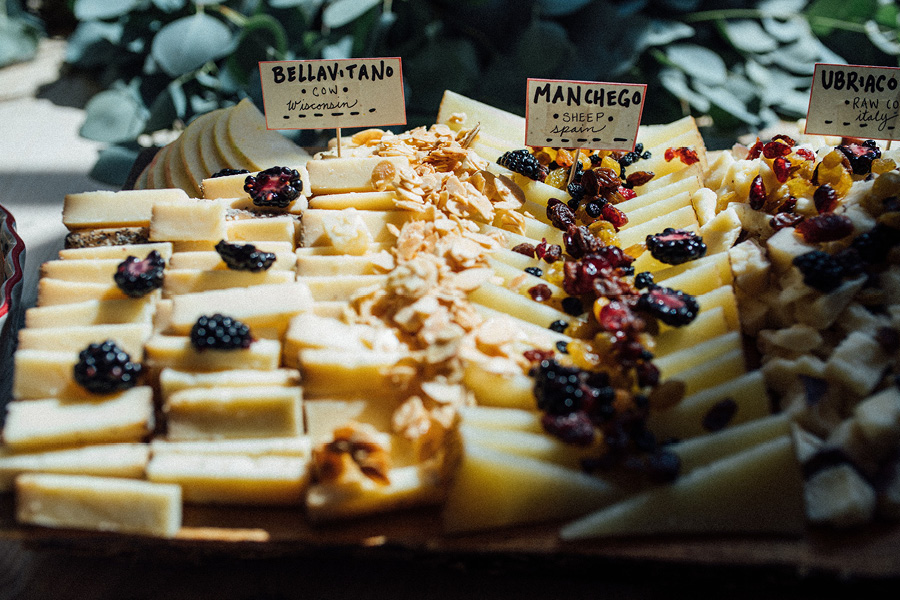 Of course the food was a highlight, complete with appetizers featuring the cheese plate of Adriana's dreams. ("I didn't get to see [it] because I was too busy being showered in love, but the Talula's team is the absolute best and had a cheese plate for two at our seats," notes Adriana.) There were signature sips (the Late Summer Spritz, the Early Autumn Sour and the Equinox) as well as a menu that dished out cuisine such as a poached Gulf shrimp salad, summer peach and ancho barbecue chicken, and a trio of desserts.
But the bride's favorite detail is one that, perhaps, ties the couple to the restaurant's history forever, too: Talula's had never had a first dance there, so Adriana and Shane made it happen. "Completely unrehearsed, we swayed in the middle of the restaurant to 'La Vie en Rose' played by Faith and, as we tend to be, we were in our own little world, cracking jokes and laughing the whole time."
Dancing continued back at home, too, by way of a "massive dance party" in their kitchen to Whitney Houston's "I Wanna Dance With Somebody," as well as Luther Vandross and Prince. There were more nibbles, thanks to Quetzally tacos and fresh-pressed green and yellow juice for margs from Mission Taqueria. And guests used chalk to draw on a concrete wall in the backyard, filling it with silly messages, advice, wishes and drawings, according to the duo. The best part: "[Our] house now holds this memory forever."
THE DETAILS
Photographer & Florals: Stephanie Barone Photography | Venue & Reception Catering: Talula's Garden (on-site coordinator: Kerri Sitrin) | Planning/Design: Classic Events by Lauren | After-Party Cuisine & Drinks: Quetzally & Mission Taqueria | Bride's Jumpsuit: Theia Couture from Lovely Bride | Hair: Victoria McCutcheon of ONLO Beauty | Makeup & Eyelash Extensions: Robin Lynette Chism and Charliss González of TopFlight Studio | Nails: Emma Still | Entertainment: Faith the Violinist | Invitations: Paperless Post | Calligraphy: Kristie Nixon | Videography: Marianna Curran (Shane's aunt)
Get more great content from Philadelphia Wedding:
FACEBOOK | INSTAGRAM | NEWSLETTER | PINTEREST
Getting married? Start and end your wedding planning journey with Philadelphia Weddings' guide to the best wedding vendors in the city.