Friend, today is Trash to Treasure Tuesday again with some of my best blogging buddies – and I'm delighted to share my project and also their thrifty makeovers at the bottom of this post.
For this month's T2T project, I dug this old thrifted artwork out of the garage.  I'll show you how to repurpose old wall art and upcycle the frame and glass into DIY vintage French decor – along with some more fabulous French project ideas below.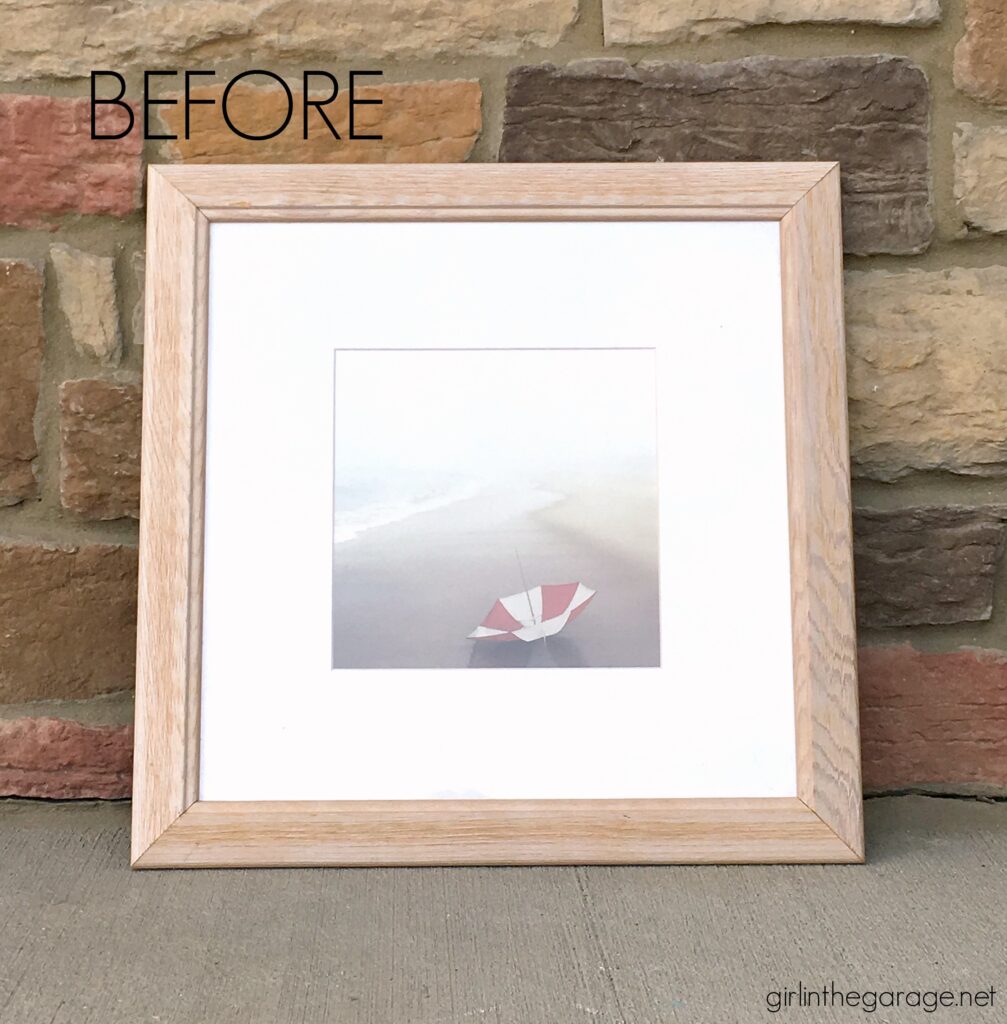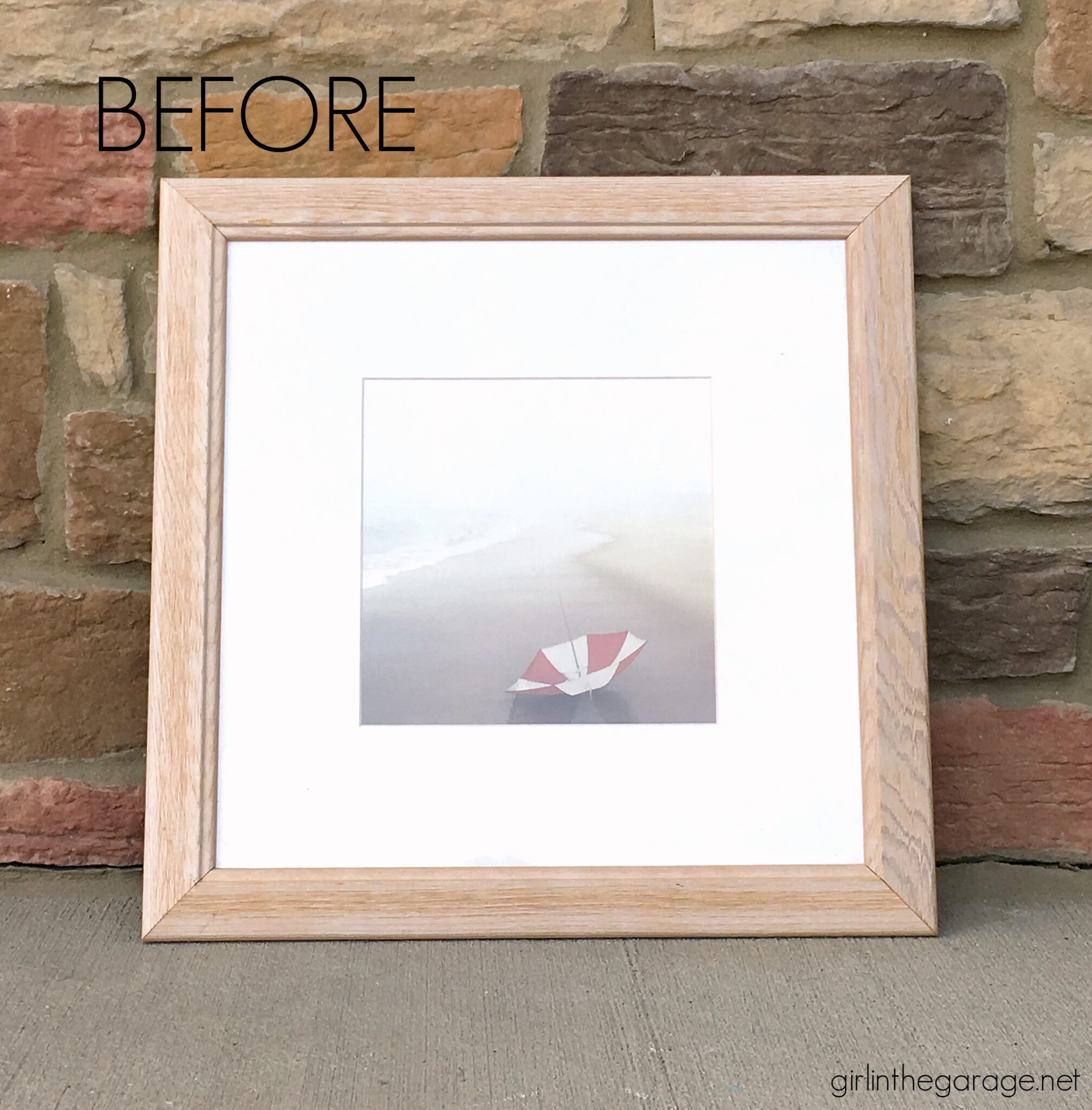 For this project I used supplies that I already have at home, but I'll include some links in case you want to order similar items online. (P.S. There's also a short helpful video of this project included for your convenience.)
This post contains some affiliate links so you can easily find the products I use and recommend.  Discover all my favorite brands and tools for doing DIY makeovers here.
Deconstruct the thrifted artwork
First I flipped the artwork over and removed the paper backing.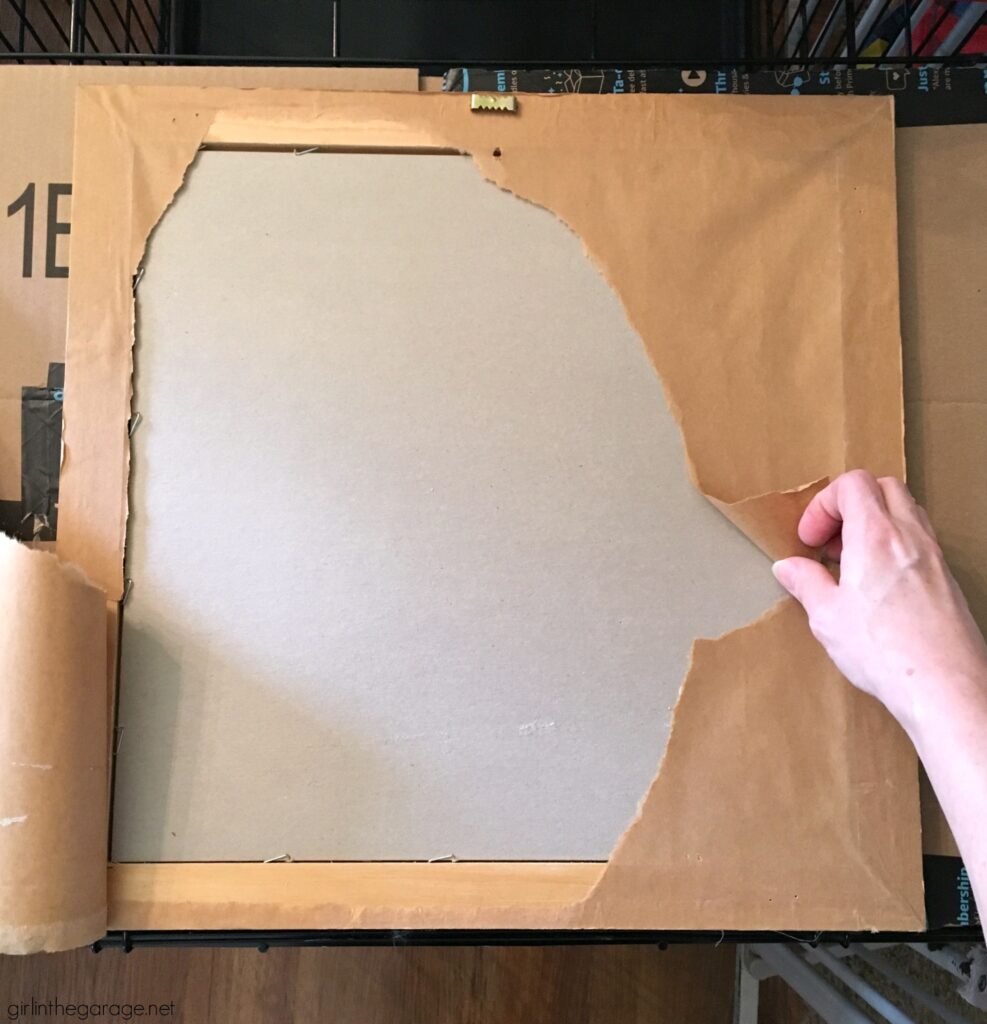 Underneath, there were several staples on each side holding the mat in place.
I recommend using a staple remover like this one which is much easier on your hands and works great for upholstery too!  Using it has seriously been a game changer when I have a lot of staples to remove.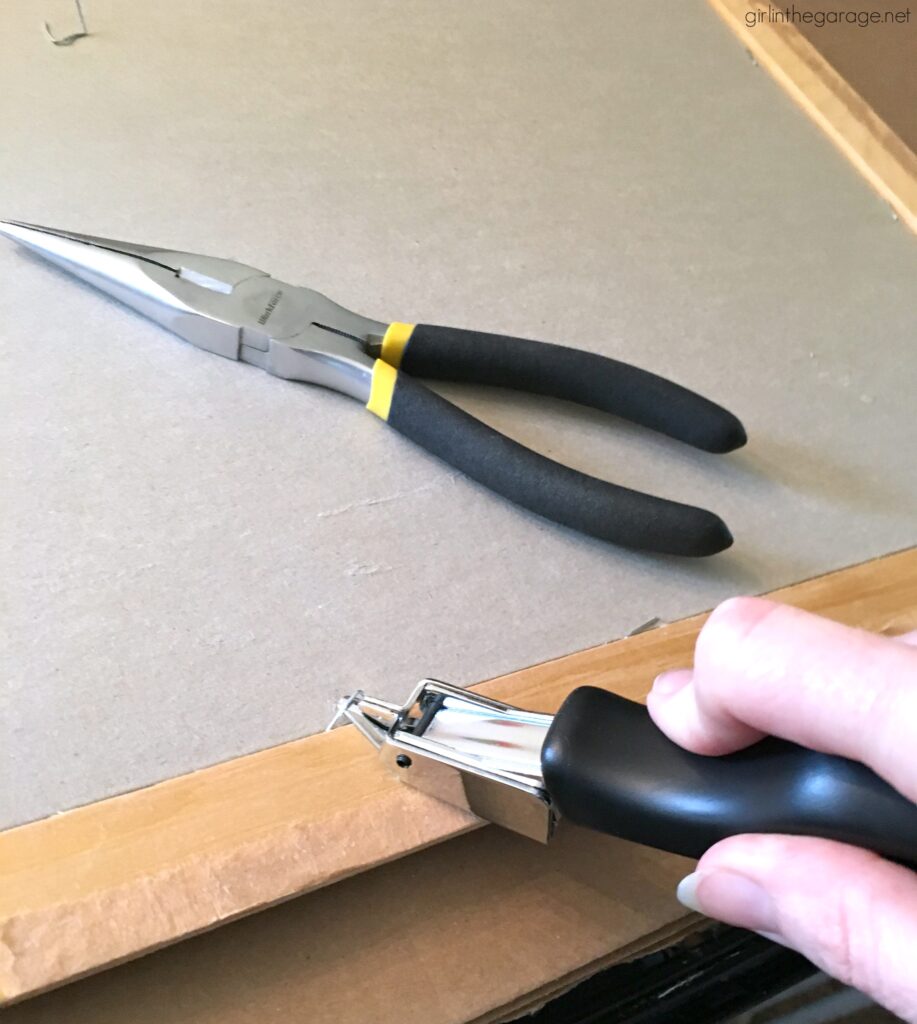 Keep needle-nose pliers nearby just in case you need a little extra help pulling staples completely out.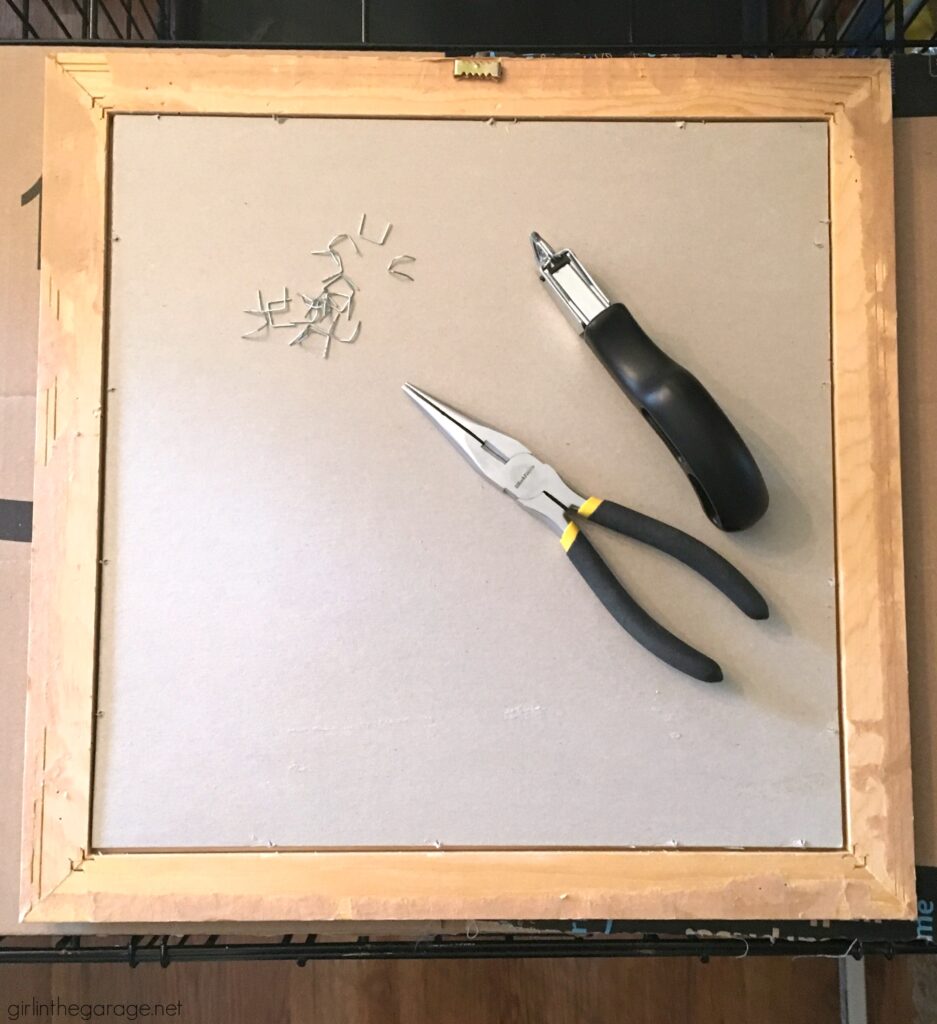 When the staples are out, just lift the mat and remove the artwork from the frame.
You can keep it if you really want, but for this project we're only reusing the frame and glass.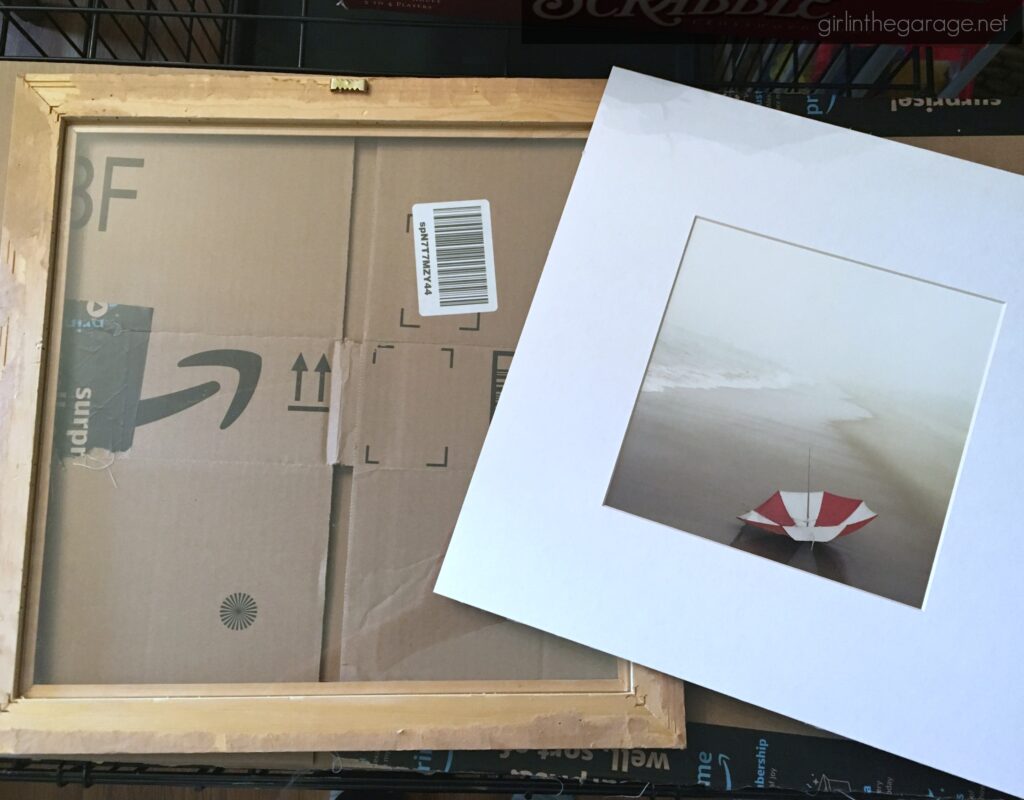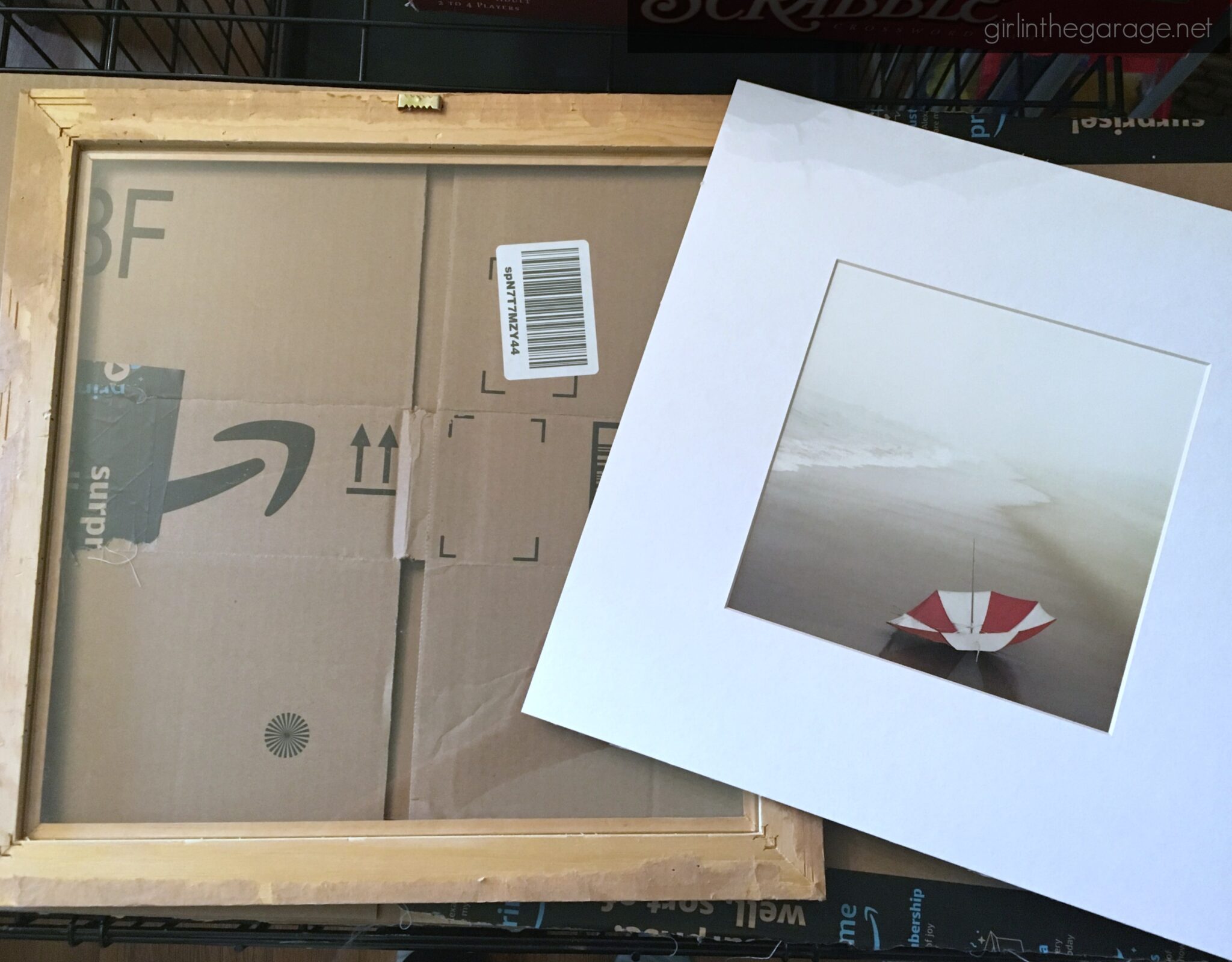 Set the glass aside for now, and sand the frame if needed – mine was a little splintery.
Paint the wooden frame
Next you'll need some gold paint like this one from DecoArt, a great paintbrush (like my favorite Purdy brushes), and some paintable decorative furniture trim appliques (mine was on clearance – find similar ones here).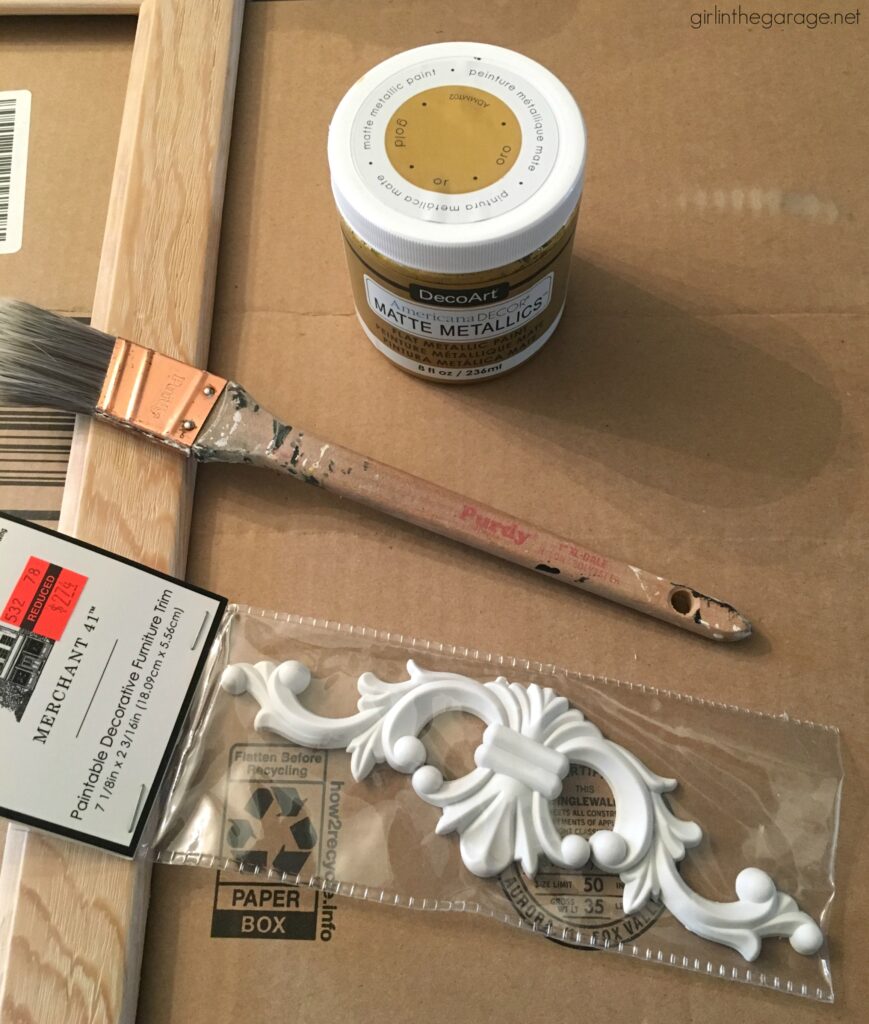 Paint the wood frame and the furniture trim with at least 2 coats of gold paint for even coverage and set them aside to dry.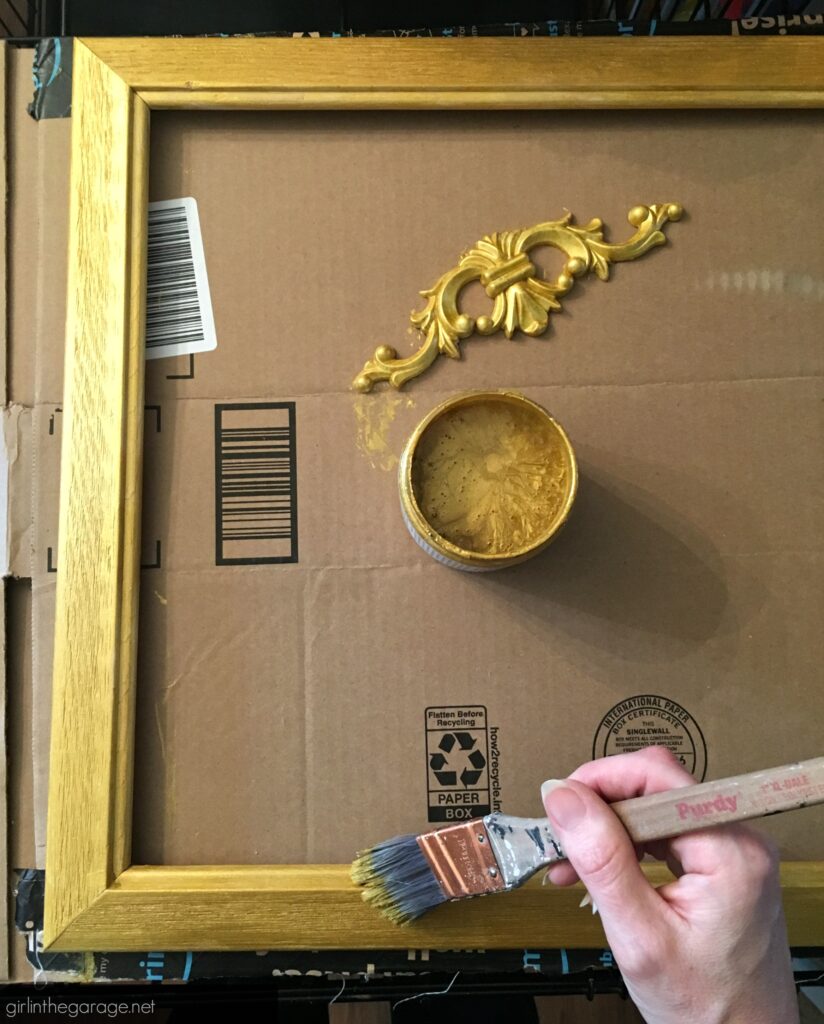 Create vintage French art by stenciling paper
Then you'll need a type of paper that is smaller than the frame itself, that you'll glue to the glass.  For larger frames or even vintage windows you can choose vintage-looking posters, book pages, sheet music, photographs, interesting wrapping paper or fabric, etc.
Since my frame is square I chose a sheet of 12×12 scrapbook paper that I already had, and it would allow about a 1 inch distance between the paper and the wood frame.
If your paper has a slight pattern or design, you may want to add a unique stencil to it (find similar French stencils here).  Center the stencil over the paper.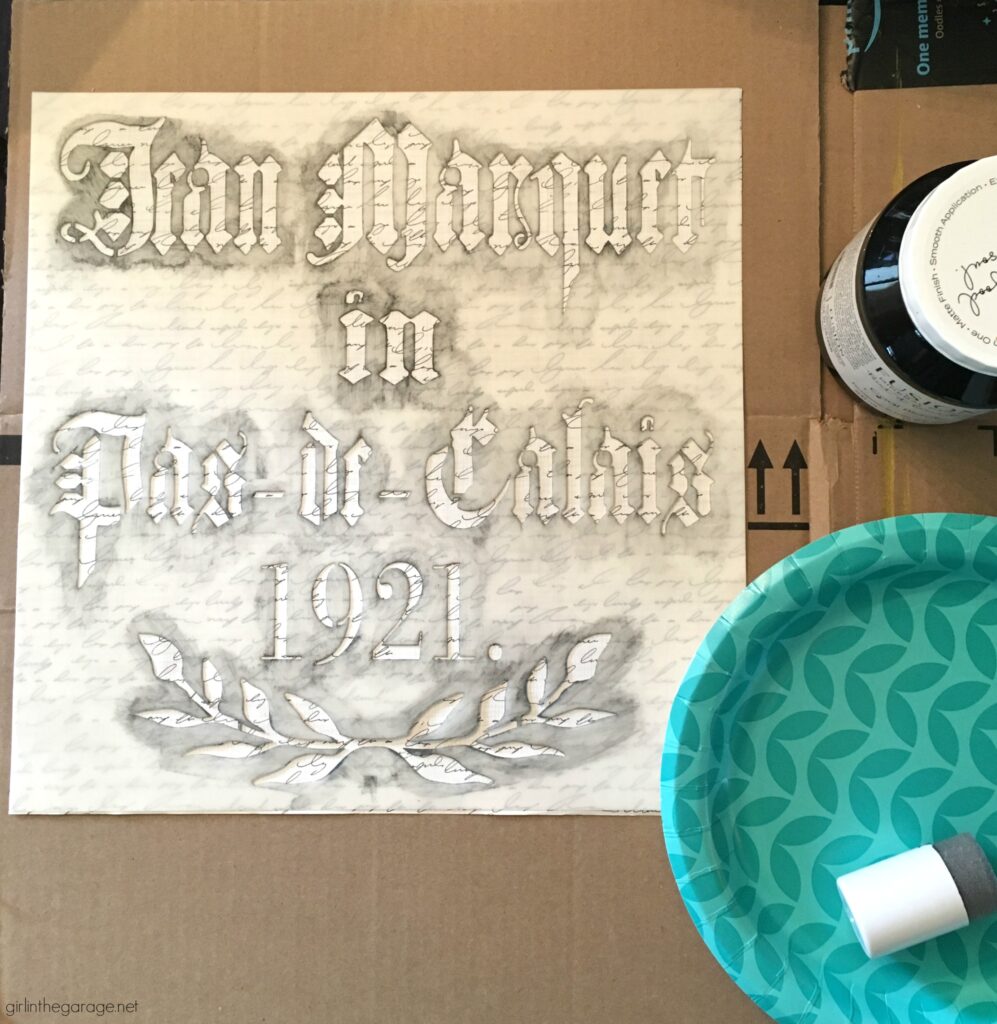 For stenciling, I used Fusion Mineral Paint in Coal Black and one of my favorite foam pouncers. Scoop a small amount of the paint onto a thick paper plate and dab the pouncer into it, then blot it onto a paper towel to remove most of the paint.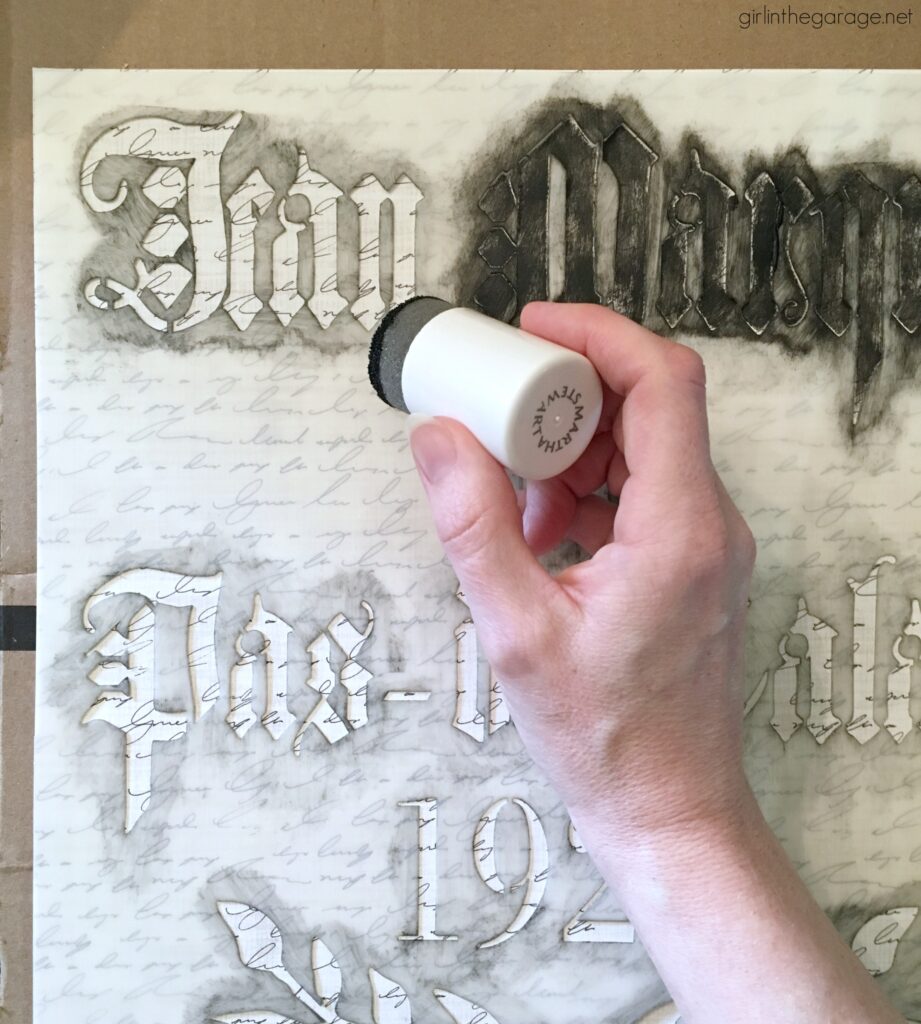 The pouncer should be mostly dry so you don't smudge the paint on the paper when stenciling.
When you're all finished, it might look similar to this: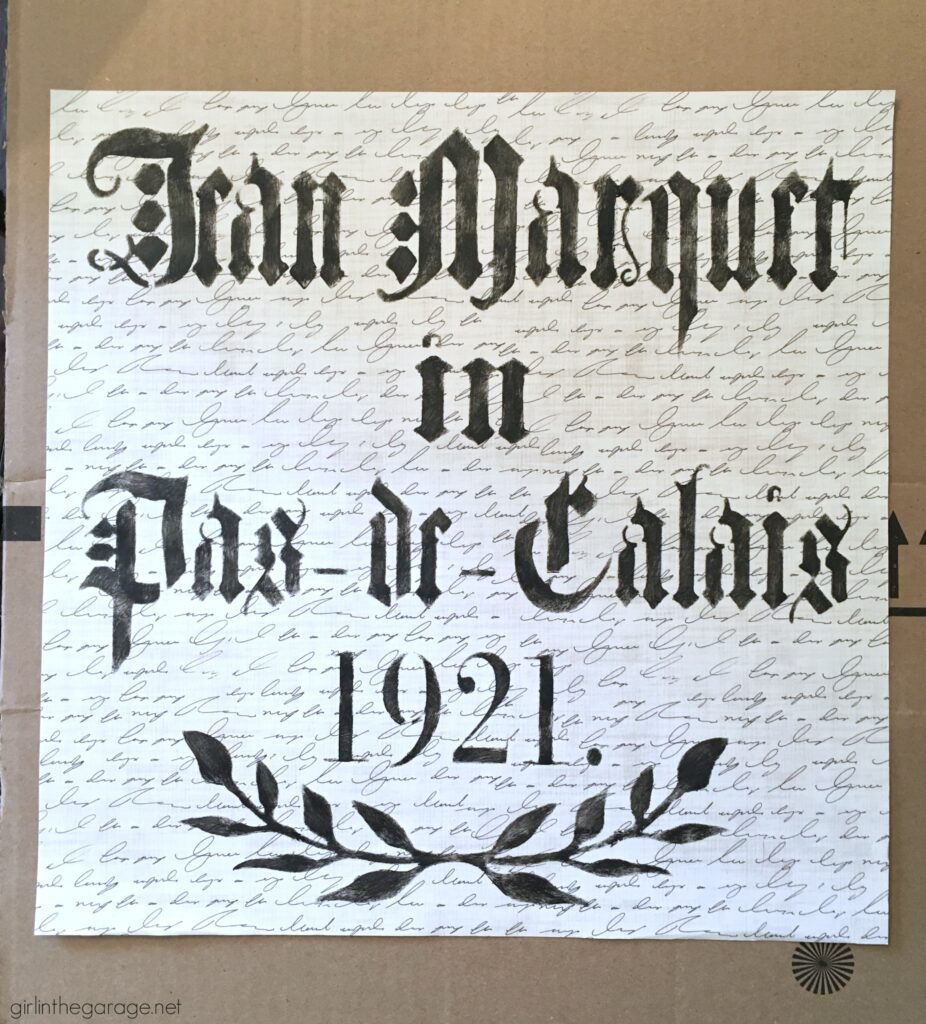 The paint should dry within just a few minutes if you didn't brush it on too thick.
Decoupage the stenciled paper to the glass
When the paint is dry, lay the paper upside down on the glass and measure to make sure it's centered from every edge.  Use some delicate painter's tape to stick the top of the paper to the glass.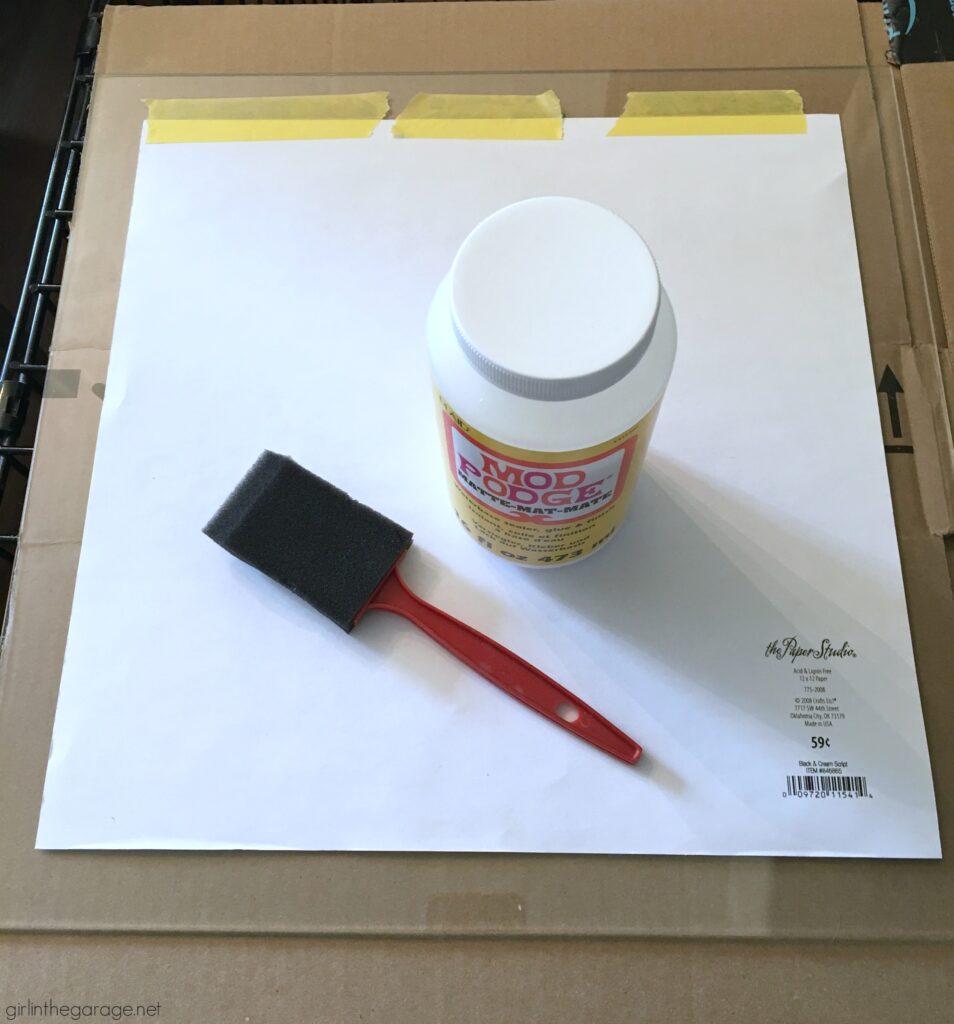 You'll want to use matte Mod Podge and a foam brush to decoupage the stenciled paper to the glass.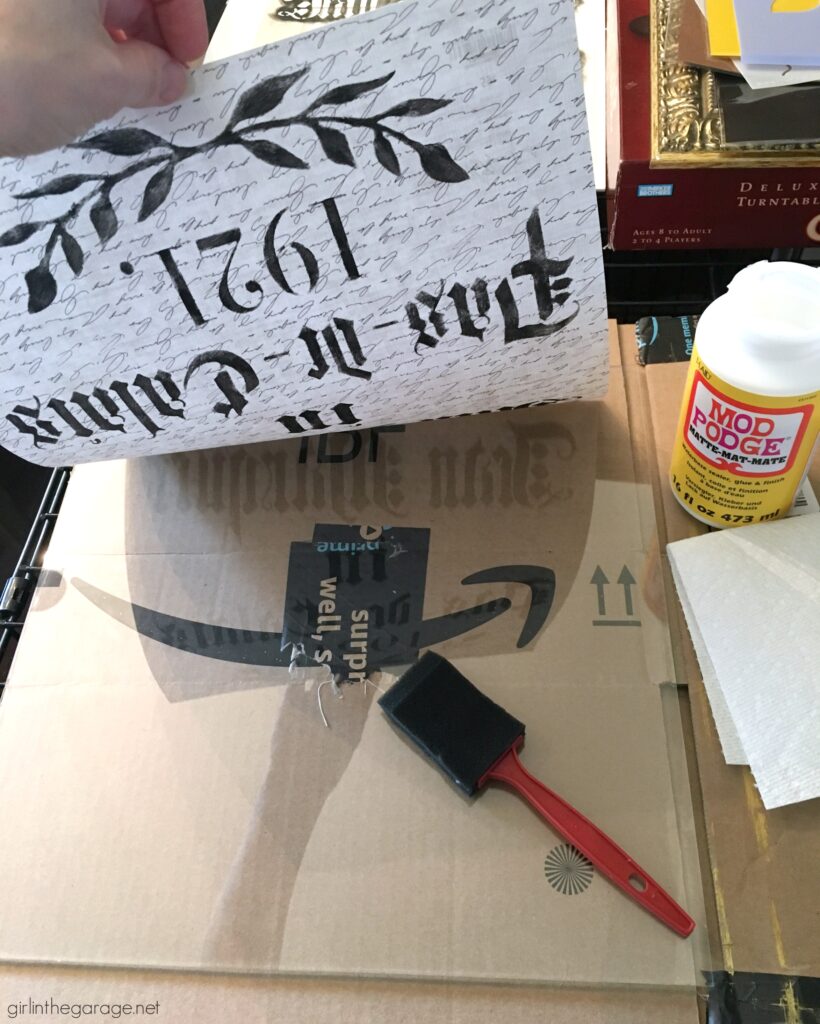 While lifting the paper, brush the Mod Podge directly onto the stenciled side in small sections, starting near the taped area first.  When the glue is on, then gently press that section down onto the glass and try to rub out any air bubbles.
Repeat until the entire paper is glued on.  Double check that the corners also have enough Mod Podge.  Keep gently patting and rubbing the back side of the paper for several minutes to smooth it out.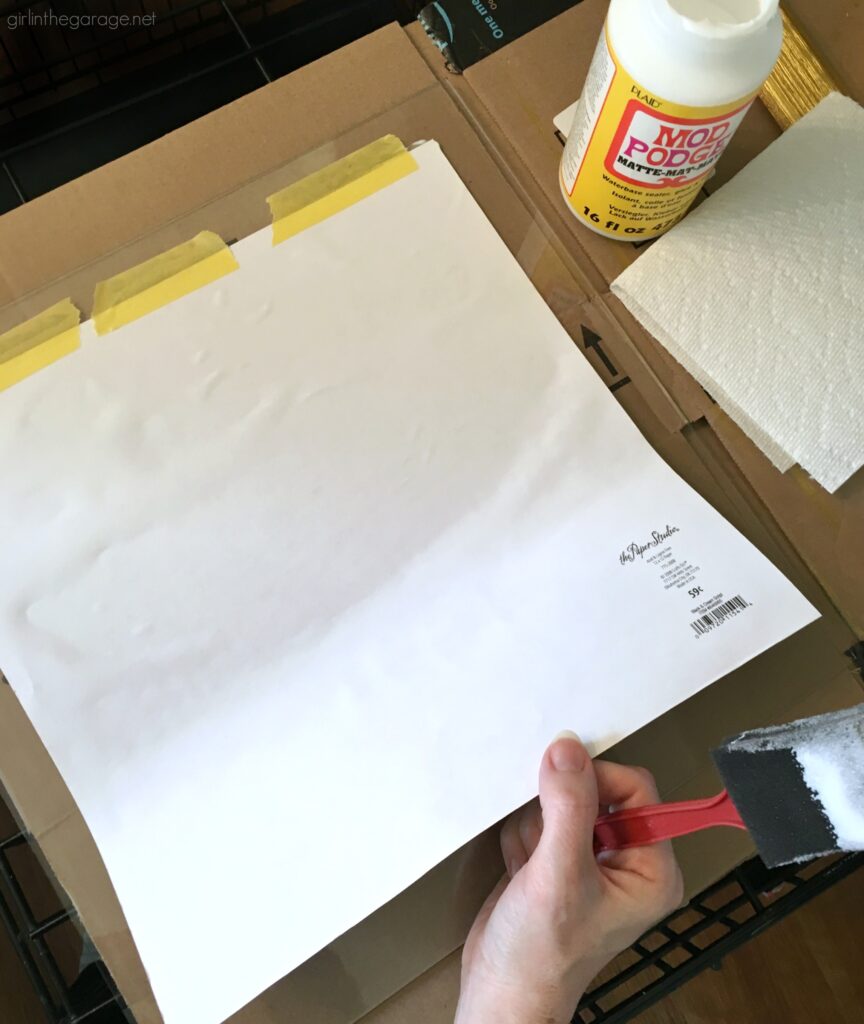 If a little Mod Podge seeps out from the edge of the paper, it's fine – you can easily wipe it away later if needed.  Just be sure not to get the paper wet if you're cleaning the back side of the glass later.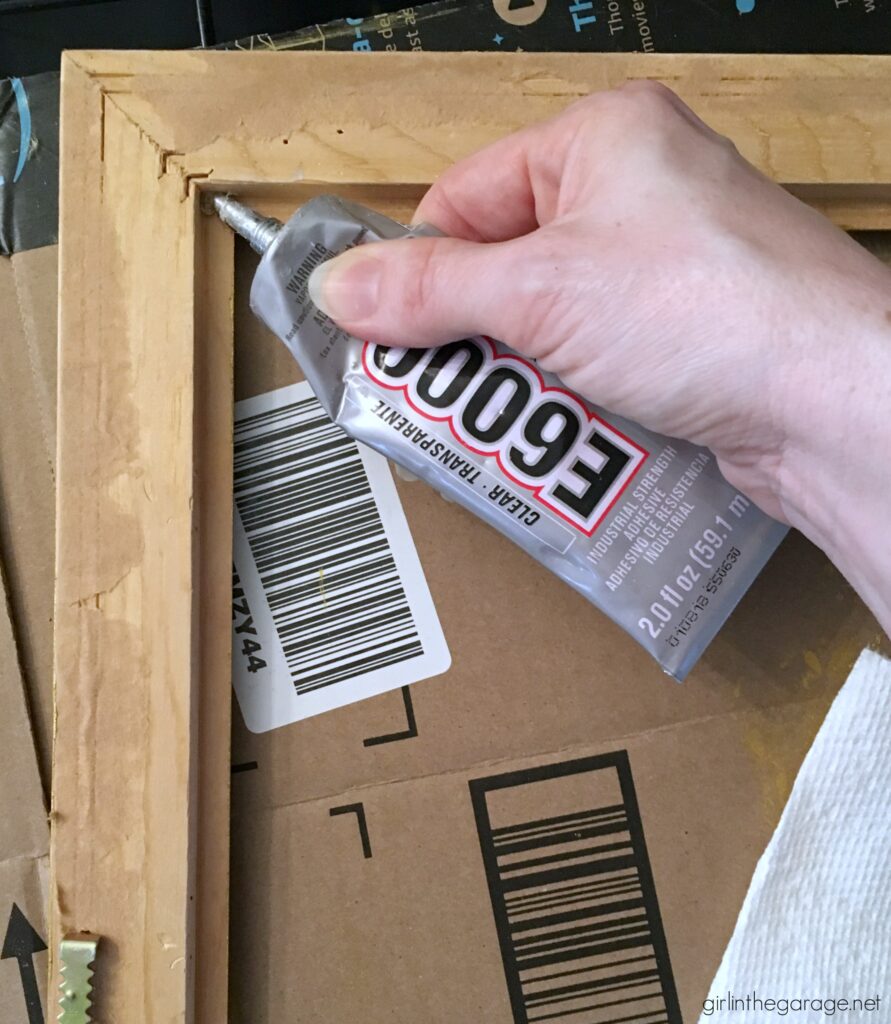 My frame had removable glass but I didn't want it to be removable anymore, so I applied a thin line of my favorite strong super glue all the way around and set the glass on top.  Let it sit overnight to dry.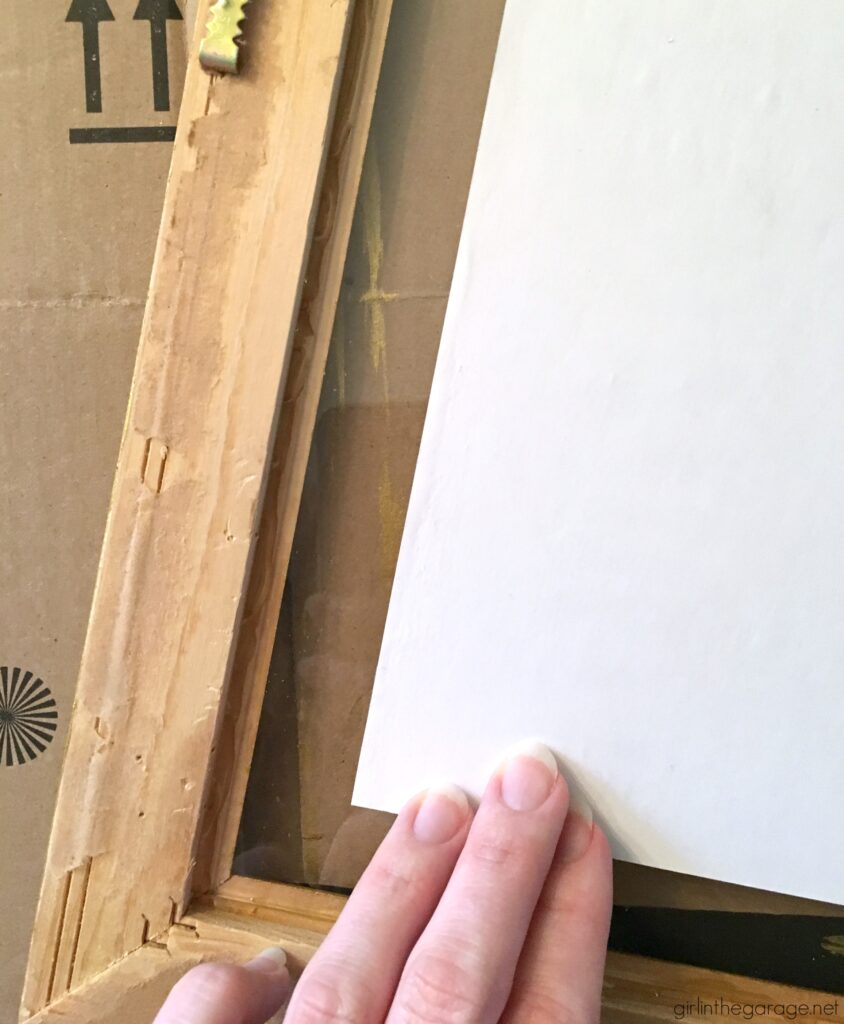 Add the final vintage French decor embellishment
Finally, apply some of the super glue to the back of the decorative furniture trim applique and then measure and place it on the frame.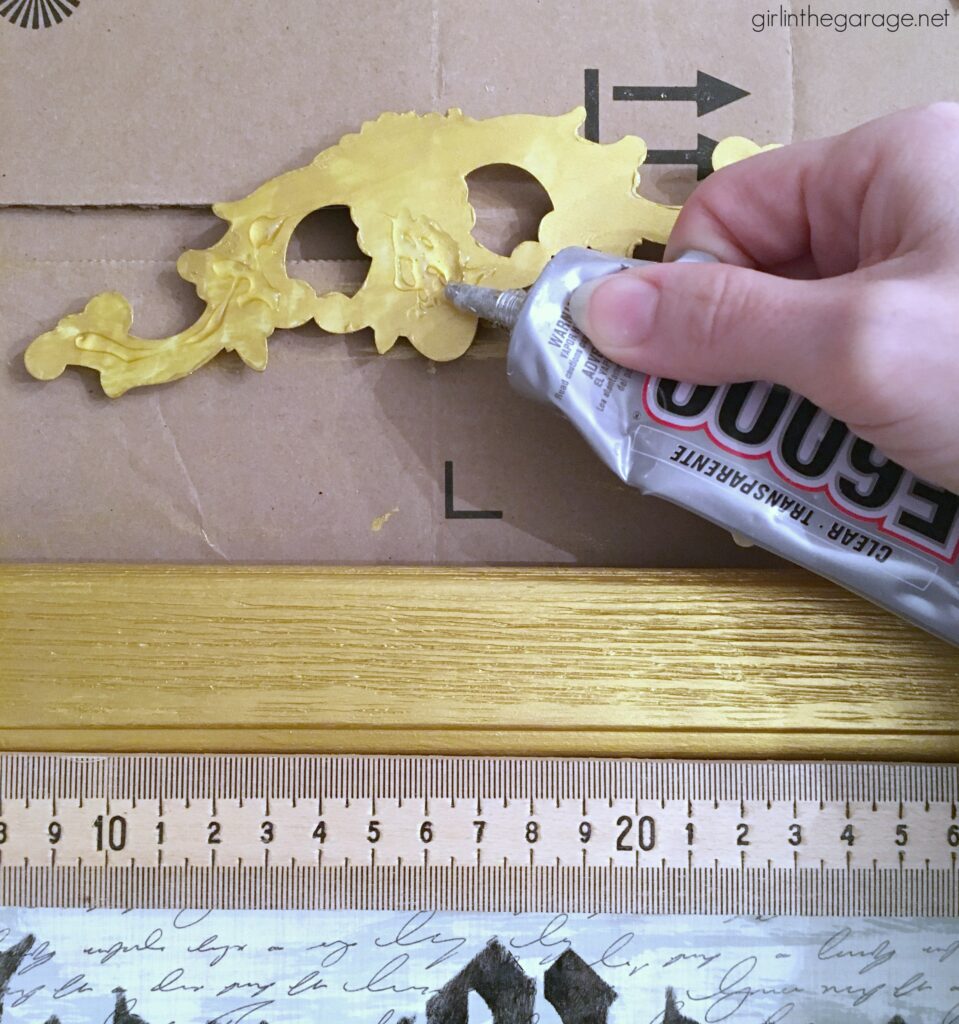 I set mine at the top center, almost like a crown for my vintage French art.  I let the glue sit overnight to dry.
Adding furniture trim is an easy way to really up the wow factor on furniture and decor. It makes a piece truly one-of-a-kind and looks way more expensive than it really is.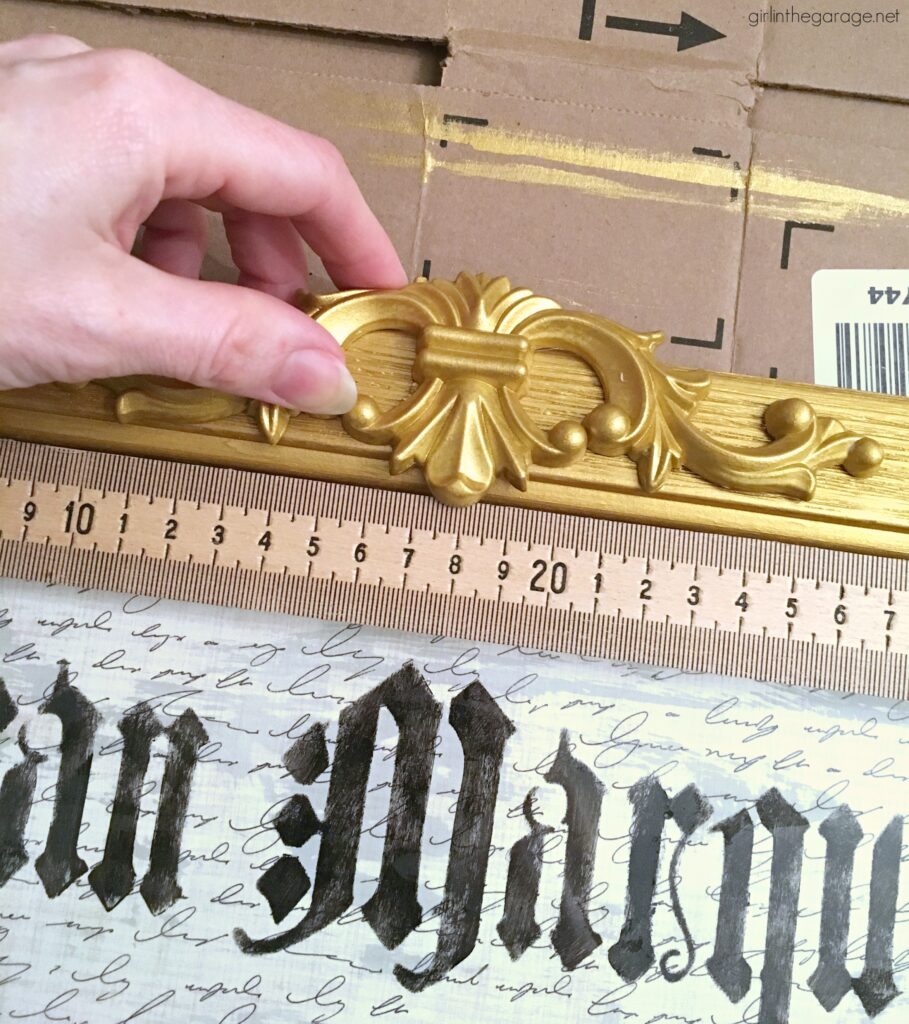 This wasn't a hard project although it had a lot of steps – I think it turned out pretty amazing though!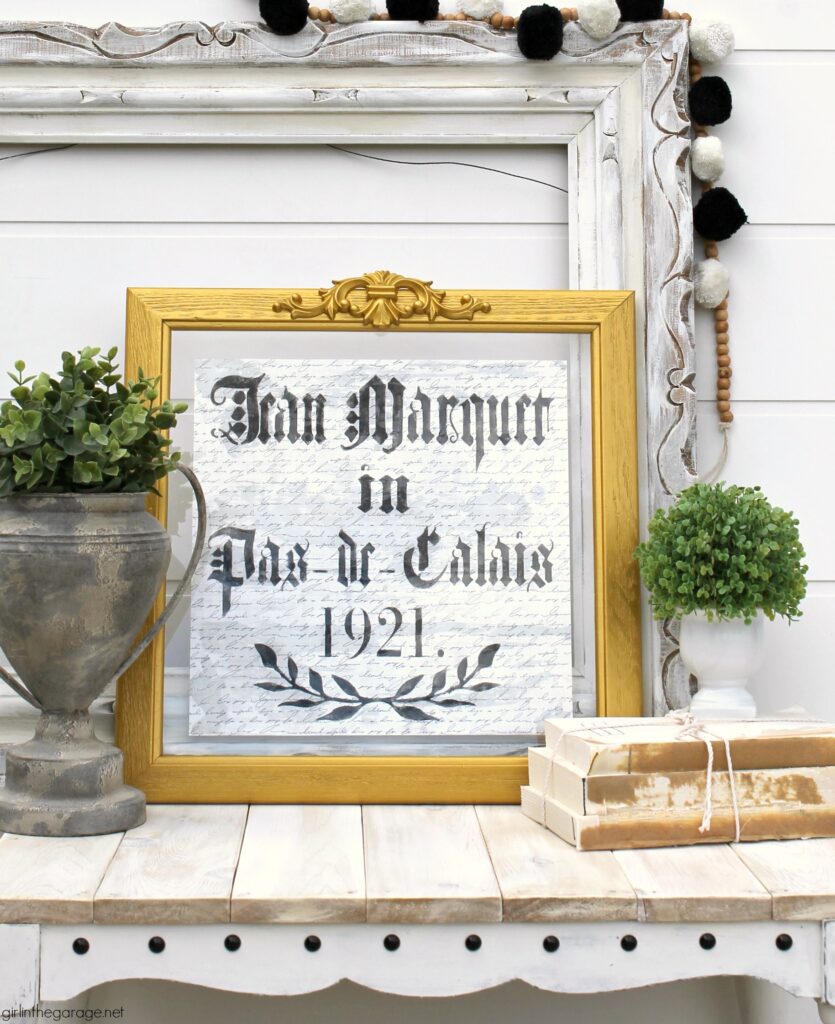 Waaaayyy different than the thrifted beach art, right??  There was nothing wrong with it before, it just wasn't my style.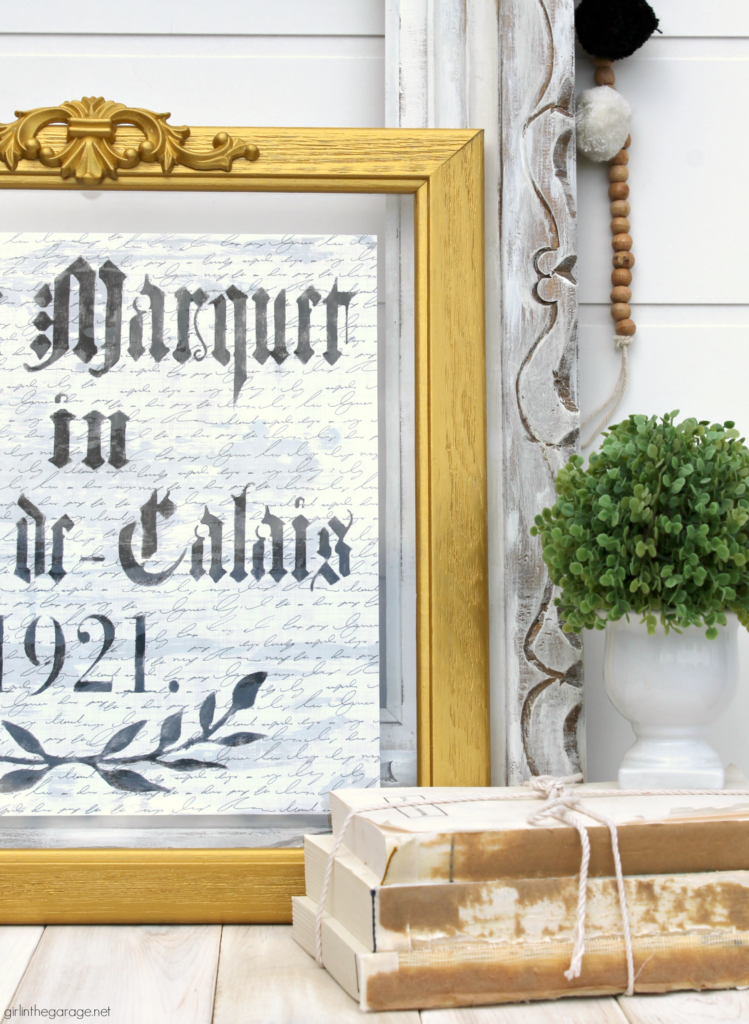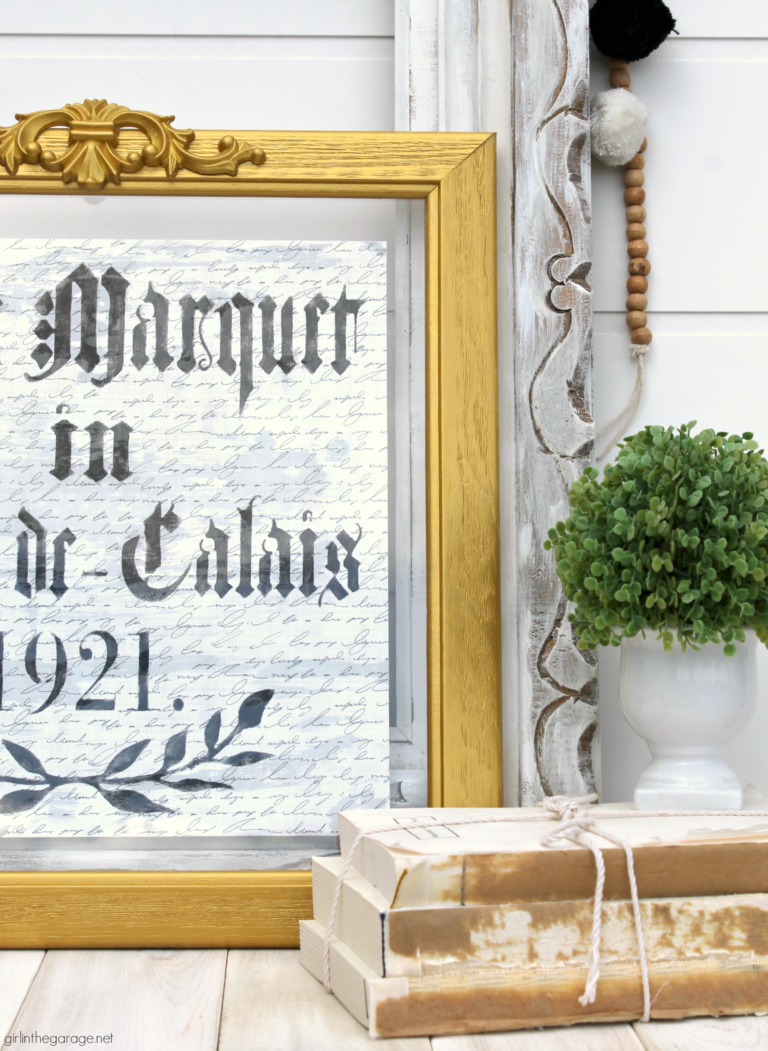 I was actually really unsure how this idea would turn out, so I was pleasantly surprised.  Haha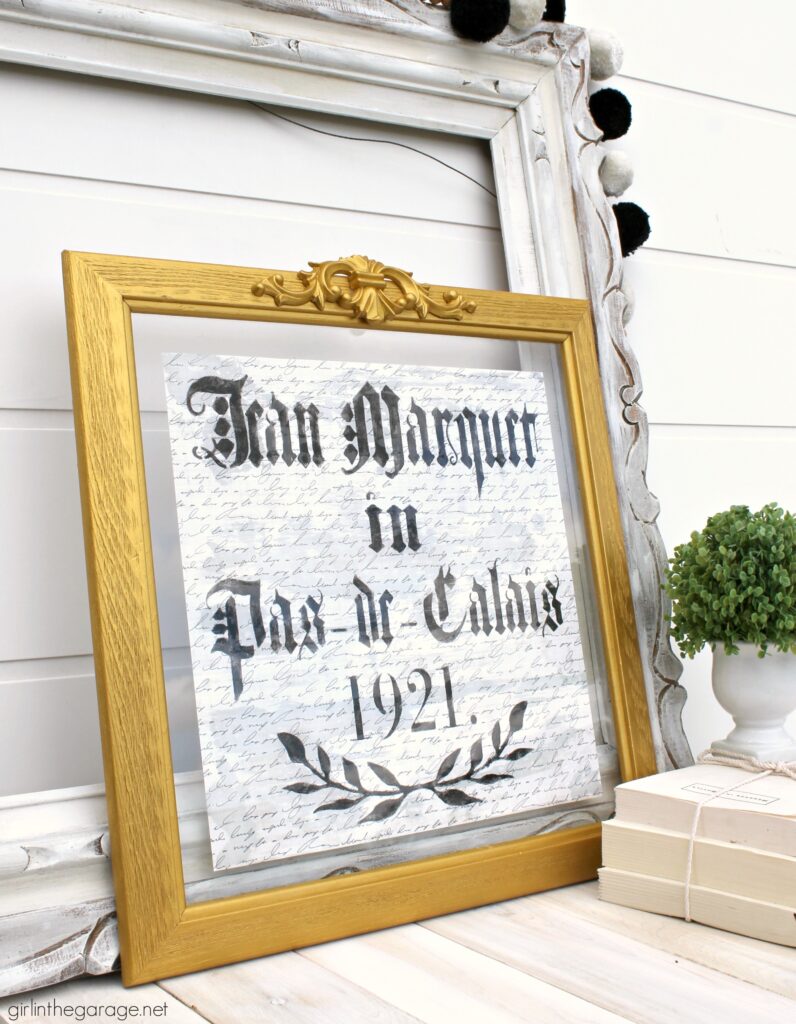 I hope you love this repurposed frame to DIY vintage French decor too.  And even if it's not your style, that's totally fine.  We all have different tastes.  🙂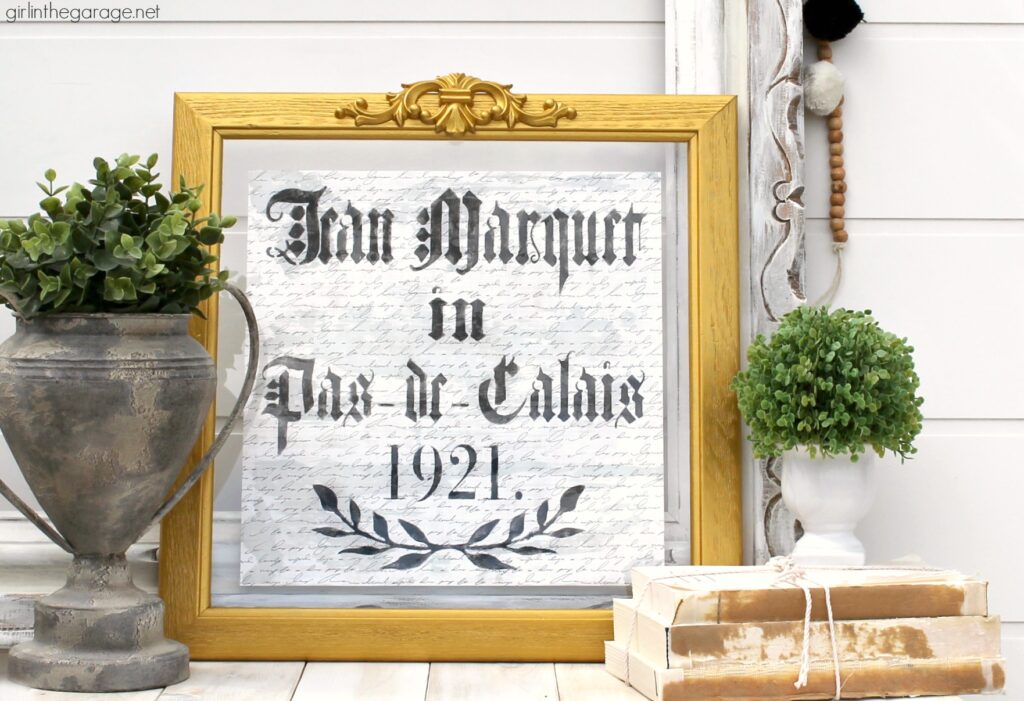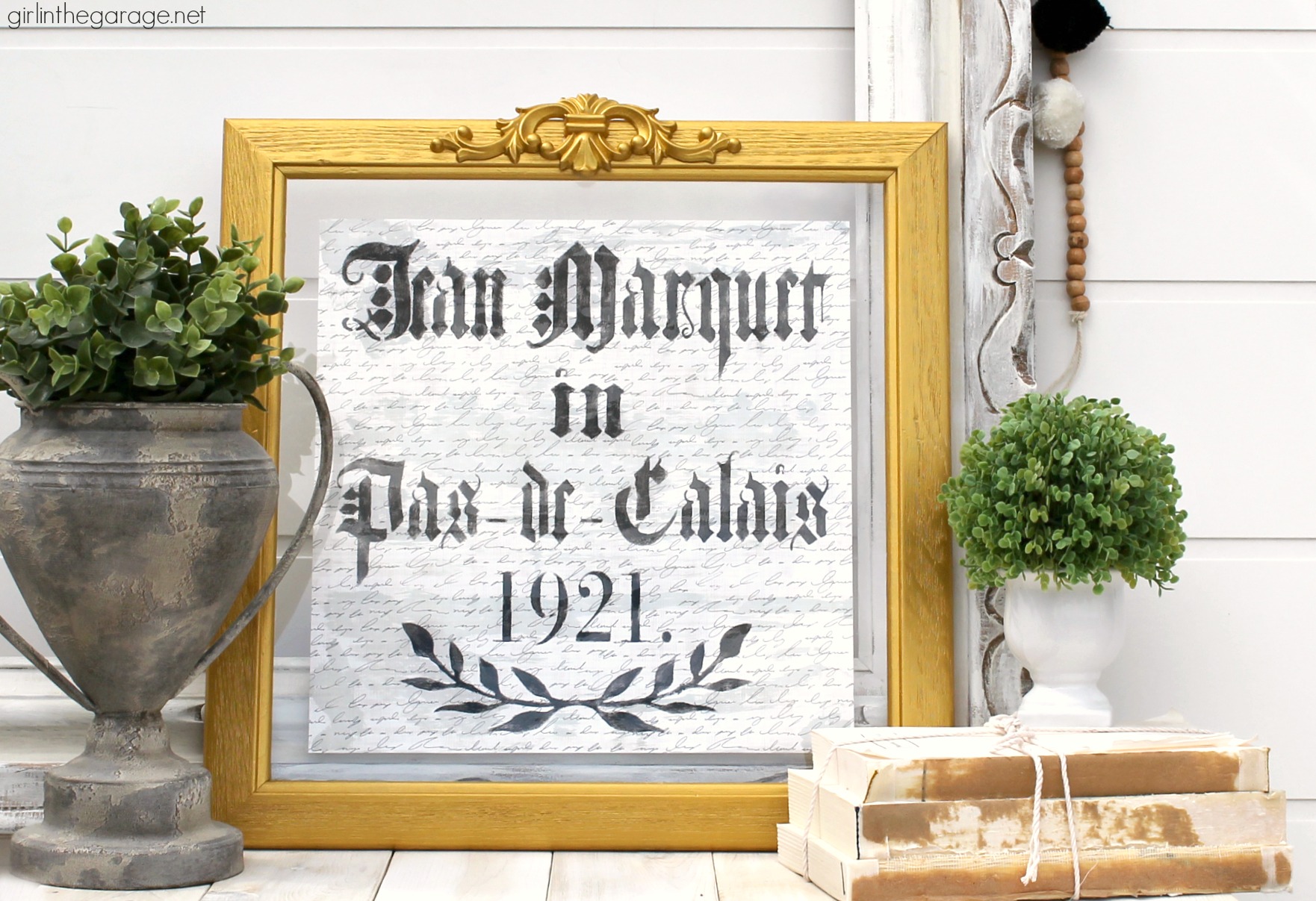 Here's a reminder below of how far this trash to treasure makeover came. Please share this post with someone else if you like it, or Pin it to find it easily again later.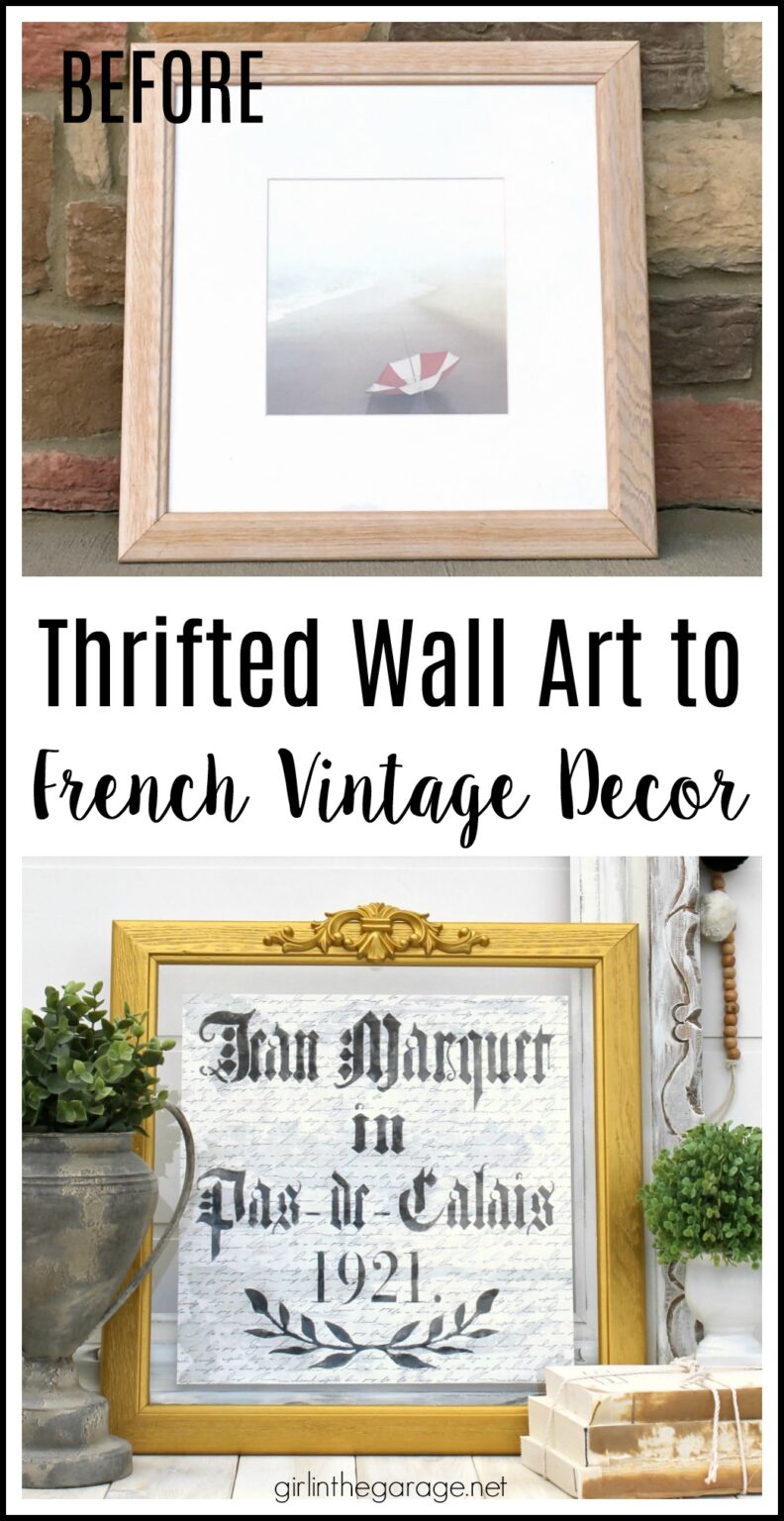 I just love easy budget-friendly decor ideas that look expensive, don't you?
As promised, here are more vintage French decor and furniture ideas you might like: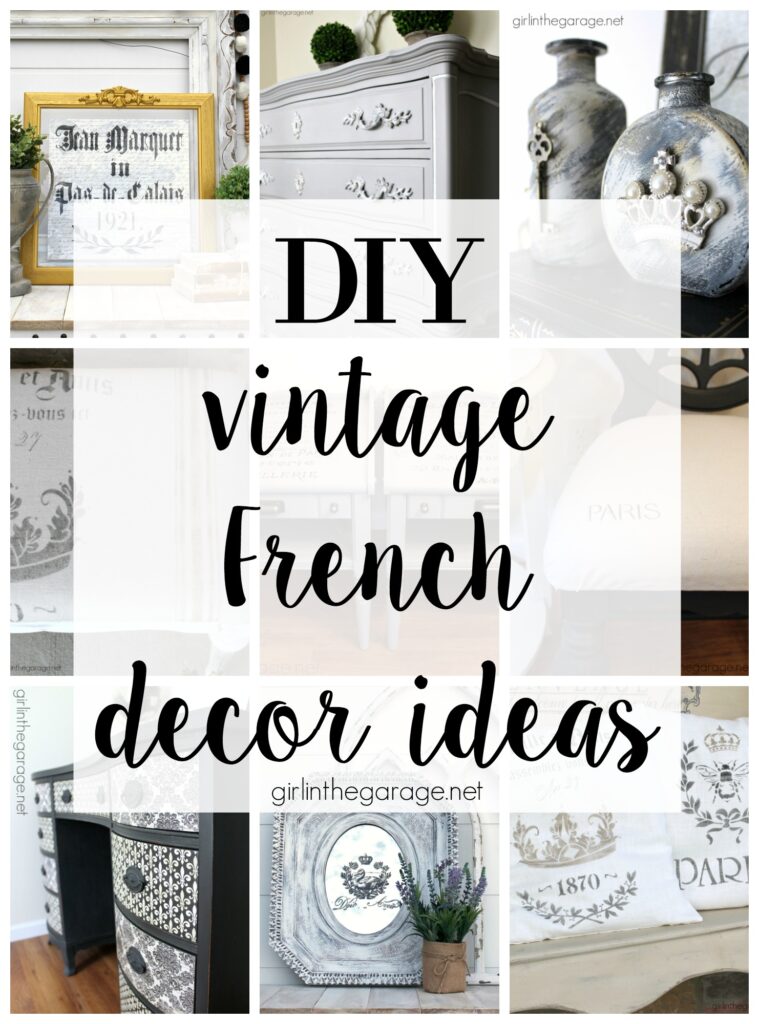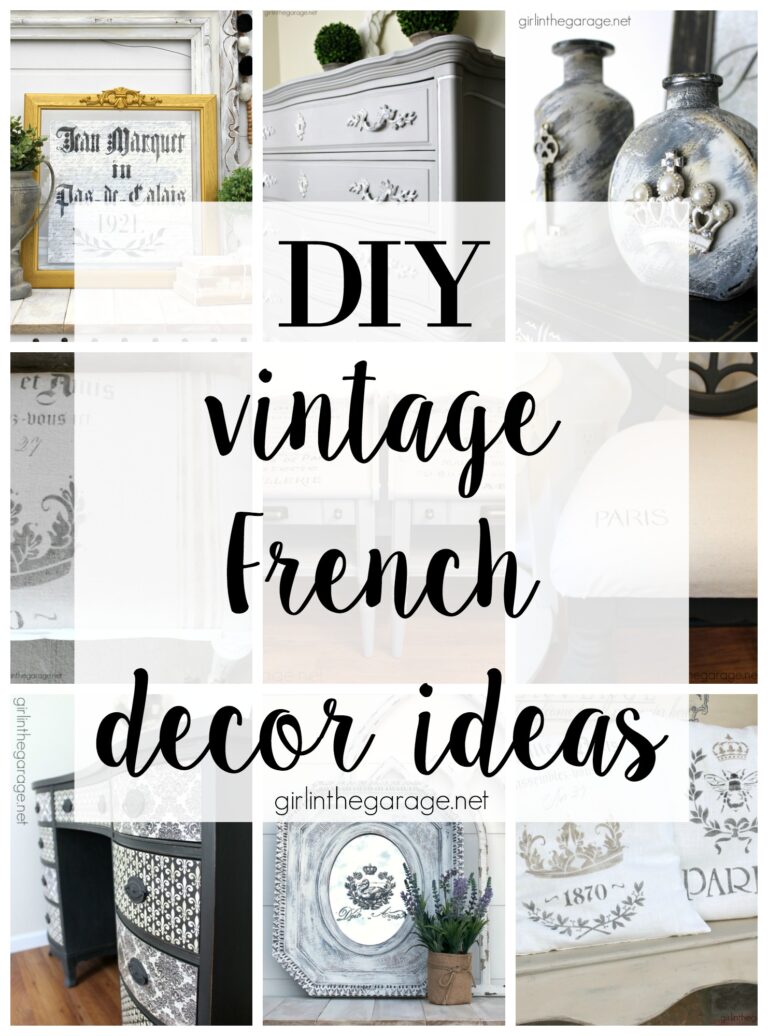 Visit the links below the image to see the step-by-step DIY tutorial.
Now it's time for Trash to Treasure Tuesday makeovers with my friends.  See their free or thrifted projects below – I know you'll be inspired!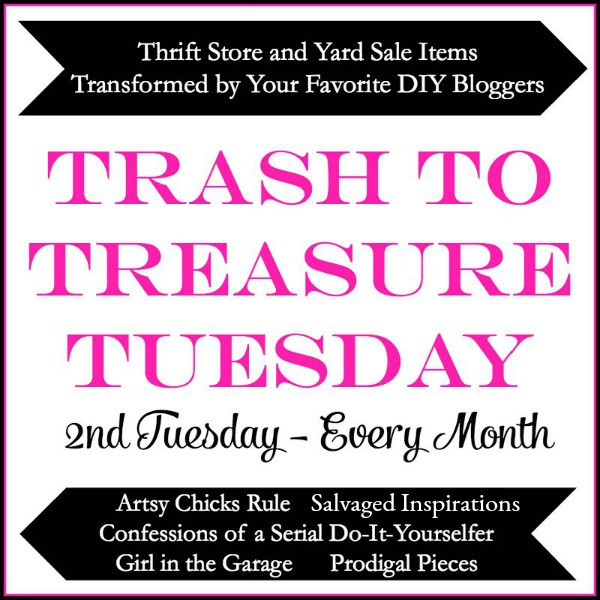 Below are the Before photos – visit the links underneath to see the amazing Afters and to learn how they did it: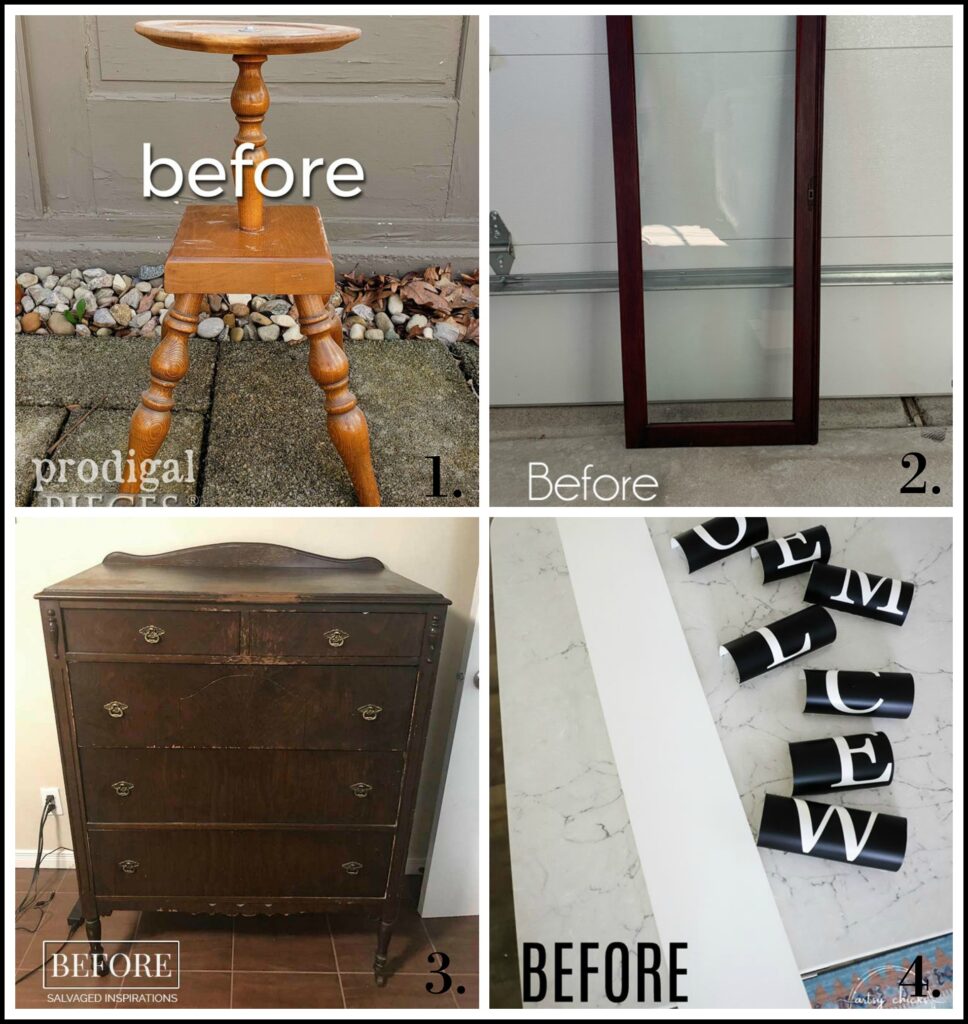 1. Prodigal Pieces
2. Confessions of a Serial DIYer
3. Salvaged Inspirations
4. Artsy Chicks Rule

Join the GITG Community
When you join this thriving online community of 90,000 creative souls, you'll be inspired to discover hidden artistic talents and learn skills to boldly face DIY projects with confidence.
You'll also receive my free guide "Just Paint It: 7 Tips for Transforming Furniture with Confidence."