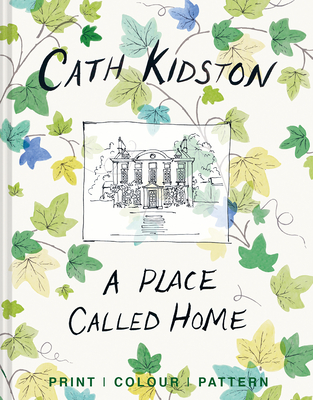 English designer Cath Kidston is known as 'The Queen of Print'. With a background in interior design and styling, Kidston founded her brand in 1993 and made it a global name selling home furnishings and fashion products. In 2017, after stepping down from the Cath Kidston Group, she founded a solo venture, Joy of Print, a creative design studio specializing in designing prints for the interiors and fashion world. Her new book, "A Place Called Home," highlights her 17th-century farmhouse and garden in Gloucestershire, which is decorated with her collected treasures and textiles and floral patterns from around the world.
Kidston joined staff writer Jura Koncius last week for The Washington Post's Home Front online chat. Here is an edited excerpt.
Q: If you could design a kitchen from scratch, what colors would you use for flooring (wood), countertops, cabinets and backsplash? We're building a new home and we have to pick all this in the design center and I'm just overwhelmed and want to make sure things coordinate.
A: Designing a kitchen can be quite overwhelming as it's such an investment. My rule of thumb is to try not to follow trends as you don't want the room to be out of date in no time. I usually keep my cabinets white and choose classic wood or stone flooring and countertops. I then accessorize with lots of color, be it with pictures, tabletop, etc. as this is more flexible and a great way to make the room individual.
Q: How do you think English houses are different from American homes in terms of decorating? Have you spent much time in the United States? Do you think decorating is more part of the culture in Britain?
A: American houses tend to be neater and more styled than those in the UK. We are famous for our country house taste, which celebrates faded grandeur and dogs on the sofa. etc. Americans tend to be much more chic! I have always been fascinated by American taste – people like Bunny Mellon and one of our best decorators was Nancy Lancaster, an American living in the UK. My feeling is we influence each other.
Q: Do you have any favorite online sources for charming print sofa pillows, lampshades, quilts and the like?
A: Block prints are really popular right now and I love Molly Mahon's pillows and prints. I have recently collaborated with a wonderful lampshade designer called Rosi de Ruig via my design studio Joy of Print.
Q: I have to ask this. Do any of the Royals have Cath Kidston fabrics in their homes?
A: I hope so but they would never say! Over the years a number had been customers and I remember Prince George being photographed in a shirt. As I am no longer involved with the company I can't tell you any recent updates.
Q: What is your all-time favorite pattern? What pattern do you consider a neutral?
A: My favorite all-time pattern is a bold floral 1960s chintz by the theater designer Oliver Messell. It has bright colored bunches on a white ground. I have used it in a guest room with plain white walls and kept the room very simple.
I don't consider any patterns neutral, but stripes and plaid are always a good calming combination with bold florals.
Q: Do you think prints are soothing? Sometimes I think too many prints in a room makes it look messy.
A: I like the notion that a room full of objects can be more soothing than a plain space, as the eye has something to rest on. I love color and print, but that being said I like a room that feels quite edited and tidy. The right prints can really lift a room and bring colors together like nothing else, but I agree too much of a mix can be a bit much.
Q: What is your opinion on gallery walls? I am afraid that a gallery wall will make my already small home/rooms look even smaller, yet they seem to be all the rage, at least in U.S. interiors.
A: I love them. I can't resist collecting art so I love hanging things together in this way. I reckon it can really help a small space to have a feeling of scale if you group pictures together on, say, one wall but leave more space on others to prevent the room feeling crowded.
Q: You are renowned for your distinctive prints. How has print influenced your style?
A: I have always loved print. My childhood memories are full of rose chintzes and somehow I have developed a near photographic memory for color and prints. I spend most of my work life either designing or researching print. Stylewise, I was bought up with "English Country House" taste in my DNA. I have gone though phases of designing more modern, pared-back interiors but somehow always come back to working with print in some way on another. I tend to use it a lot when decorating but mainly in the bedroom areas these days.
Q: "A Place Called Home" is in the same vein as Bunny Williams' "An Affair With a House." Did you find it harder to put this book together because of the personal nature of it versus a more traditional book highlighting work for clients?
A: I was surprised that I found it easier to write about my own home. I guess decorating is really quite an emotional thing – making a place personal, giving it a character, atmosphere, etc., and I understood all the nuances of what I had done and the history of how I had gotten to that point of making it the way it was.
Q: I think what appeals to me most about the comfy English look is the comfort. There are so many synthetics here and I know they wear much better but they are not comfortable. What do you think about that?
A: I agree – Comfort rules! There are lots of ways of being practical though. I always look to the most comfortable seating I can find and that is usually with a natural filling but then use covers that are easy to have cleaned.
Q: How do you know where to start when designing a room?
A: I usually look to one key item to build around – so it may be a rug or a picture I already own that is the trigger point. I will then try to decide the wall color. I always collect images of rooms I like and have a library of reference books so these are a go-to places as well.
Q: I have a small kitchen in a large open floor plan home. The dining, living, and kitchen areas are all open but the kitchen has very little counter space or storage. I thought of extending it but the garage door is right where it would be able to be extended. Also there isn't really any space for an island in the kitchen either. There is an area between the kitchen and living room that is currently empty and I was thinking of adding some sort of coffee bar/ china cabinet there but I have no idea where to start. Should I try to match it to the dark wood of the kitchen because I would like to use it primarily for kitchen storage? I have been looking for solutions for months.
A: It sounds like that empty space between the kitchen and the living area is a great place to create more counter space and storage. I would think about building in a unit and painting it a color that links the two rooms. A cabinet with glass doors above can be great to store and display china.
Q: This is the perfect chat, as I have just bought my first house and am having a hard time putting my mind around creating some sort of cohesive (or semi-cohesive) approach to decorating. I love color and want plenty of color around, and am working with a small rowhome that has some cool built-in features, such as exposed stone walls and wood beams. Any suggestions for how I figure out what my style is? I do have a toddler, so playfulness and practicality are important.
A: How exciting to be starting a new project. I would start by looking at books and Pinterest etc. of rooms with the same stone and beams etc. and see how other people have used color in that environment. Good luck with it and enjoy creating your new home.