Although it might not feel like it when you're quarantined in your living room, spring is here. And while the usual outdoor festivities will likely get cut short or canceled altogether, that doesn't mean you can't still appreciate the changing of the seasons inside your home.
Especially when it comes to the lush selection of new looks coming out right now. We've consulted with designers from coast to coast about the hottest decor styles of the season, and we're bringing you five you absolutely won't want to live without.
Ready to fall hard into spring decor fever? Keep scrolling.
1. Rustic cluster globe lighting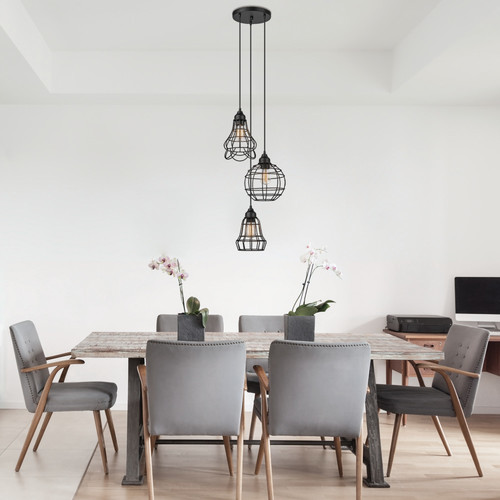 Photo by Globe Electric 
Why buy one new lamp when you could have three? We're seeing cluster globe lighting everywhere this season, from the bathroom to dining room.
"Multiple hanging lights are extremely popular," says Pamela Durkin of Pamela Durkin Designs. "They come in so many shapes and sizes, and the nice added bonus is that you don't need to use more than one junction box—which means it can be an easy change out for any handy homeowner!"
You can get this exact cluster pendant delivered from Amazon.
2. Classic-blue kitchen cabinetry

Photo by Kountry Kraft 
If you've paid any mind to decor trends for 2020, then you know bold is big in the kitchen this year. But we must say: These classic-blue cabinets really are stealing the show.
"One of the many reasons that blue kitchen cabinetry is so popular this season is the variety of blue shades and the endless ways to incorporate the color," says Kobi Karp, principal at Kobi Karp Architecture & Interior Design. "Cabinets rendered in shades of blue work in both traditional and modern kitchen designs, as well as in-the-middle traditional aesthetics. They pair especially well with warm brass finishes and a crisp white backsplash."
From turquoise to teal, aqua to dusty blue, there's a shade of blue that anyone can connect to. But we suggest you give your kitchen cabinets a stunning new look with Naval from Sherwin-Williams.
3. Modern natural wood bed frames

Photo by Environment Furniture 
Wood bed frames are nothing new, but artisanally crafted ones are a bit rarer—and trending now.
"Wood bed frames are extremely popular this season because of how sustainable, renewable, and environmentally friendly they are," says Karp. "Wood bed frames are versatile, aesthetically delightful, and easily match with any bedroom's style. They're also essential in creating comfort, warmth, and bringing organic beauty into a space."
Shop this Miri black and rattan bed from CB2 to get this modern and natural style.
4. Elegant gold wallpaper

Photo by Third Coast Interiors 
Bold statements aren't just for the kitchen this season; we're seeing more and more walls in designer homes being adorned in statement gold wallpaper.
"Gold is in this season, perfect for warming up interior spaces," says Karp. "Whether you're decorating a whole room, a feature wall, or cabinet interior, gold wallpaper adds an instant elegance to any space."
Ready to go for the gold in your house? Check out this metallic gold removable wallpaper from Wayfair.
5. Serene neutral living rooms

Photo by 30 Collins 
If you're not ready to go big in your home this season, don't worry. There's another major trend we're seeing right now: stunningly neutral living rooms.
"Soft color palettes are so soothing right now, and I think everyone is for that," Durkin says. "These neutral rooms give us the freedom to change it up very easily with pillows and other accents."
Add some serenity to your stressed out day-to-day with this neutral wall hanging and these hand-embroidered pillow covers from Etsy.