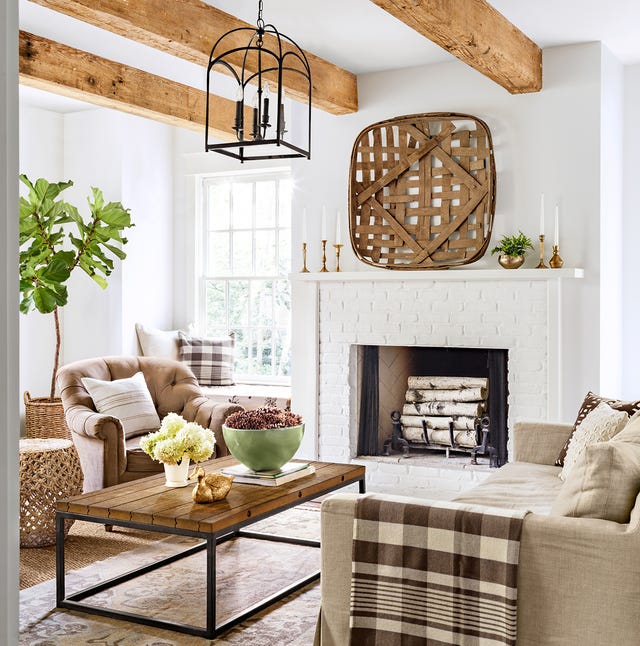 Lincoln Barbour
Come fall, you might be inclined to decorate with layers of texture, transition your home's color palette from energetic hues to earth tones, and even carve out a cozy nook that's perfect for lounging. Autumn presents an opportunity to make the most of more time spent indoors, which means finding ways to make your home more cozy and welcoming. Believe it or not, this doesn't mean you have to blow your budget. One of the best places to start? Your living room mantel.
Fall mantel decorating is all about being creative, whether you choose to bring in the outdoors by incorporating foliage or stick to classic accessories like vibrant pumpkins and candles. Browse some of our favorite fall mantel decor ideas that showcase the beauty of the season.
1 of 25
Colorful Halloween Mantel
Put vibrant pumpkins in pink and orange on full display, and finish the look with a playful black pennant banner.
2 of 25
Artichoke Decor
Footed artichoke decor can bring a playful touch to your fall mantel display. Choose a white design to brighten your space.
3 of 25
Rustic Wood Decor
Keep it simple with wooden decorative pieces that add texture to a neutral room.
4 of 25
Nature-Inspired Art
Embrace your love of nature by framing your favorite landscape print or painting for the season.
5 of 25
Rustic Antiques
Antiques with an old-world feel are always great for the fall season. Take a cue from this well-curated mantel, including a wall-mounted horse, and make a unique vintage find part of your decor.
6 of 25
Gourds, Squash and Chestnuts
Look no further than a mix of dried gourds, squash and a garland of chestnuts to fill your living room with autumn vibes.
8 of 25
Scary Halloween Frames
Guests will freak out at this Halloween mantel setup, complete with skulls and witch graphics in striking black frames.
9 of 25
Berry Branches
Celebrate the arrival of fall by filling a chic vase with orange berry branches.
11 of 25
Collected Look
For a collected feel, add interest to an all-white space with pots of greenery along with an assortment of decorative trays and vessels.
12 of 25
Spooky Halloween Display
Kids would be impressed with this creepy Halloween mantel display, including hanging ghosts, haunted house lanterns, pumpkins and dark branches.
13 of 25
Foliage and Candles
Upgrade your mantel in an instant by pairing candles with branches and dried oranges.
14 of 25
Leaning Mirrors
Make it easy for natural light to bounce around the room by leaning a pair of mirrors against the wall.
15 of 25
Halloween Arrangement
Celebrate Halloween with a display of pumpkins in a range of sizes. Dress them up with Halloween-appropriate words ("Boo" is a no-brainer) to make more of an impact.
16 of 25
Elegant Candlesticks
You can never go wrong with candlesticks on a mantel—a no-fuss way to bring warmth into your space.
17 of 25
Colors of Fall
Top pieces of plaid fabric with statement yellow foliage and charming pumpkins in varied sizes.
18 of 25
Autumn Florals
Deck your mantel with lush greenery and complement it with an arrangement of flowers in a rich hue like purple.
19 of 25
Wheat Stalks
Outfit your mantel with bunches of affordable wheat stalks—one of fall's most popular decorations.
20 of 25
Eucalyptus Branches
Fill a colorful vase with simple eucalyptus branches for a sophisticated autumn look.
21 of 25
Lamps for Symmetry
Exercise the principle of symmetry by opting for a pair of metal lamps above your fireplace. It's a great way to bring more light into your space, which is necessary during the fall months.
22 of 25
Autumn Garland
When it comes to fall, it always pays to bring the outdoors in. Dressing up your mantel with dried leaves and mini pumpkins is an easy way to do it.
23 of 25
Versatile Antlers
Decorative antlers are typically used to spruce up a drab wall, but they work just as well on a mantel for a rustic vibe.
24 of 25
Plants and Antlers
Let a pair of tall plants frame small decorative antlers for a laid-back fall look.
25 of 25
Rustic Charm
Enhance a wooden mantel with complementary accessories, like a vintage-inspired lantern, to add character to your space.
Advertisement – Continue Reading Below
This content is created and maintained by a third party, and imported onto this page to help users provide their email addresses. You may be able to find more information about this and similar content at piano.io
This commenting section is created and maintained by a third party, and imported onto this page. You may be able to find more information on their web site.