In today's post I'm sharing my top 20 thrift store home decorating "must-haves" that I rarely pass up! I've also included photos and links to all of my rooms, giving you even more decorating ideas. (I didn't realize how many thrifted items I use until I created this post!)
20+ Thrift Store Home Decorating Ideas
Affiliate links included throughout this post
A few basic thrift store staples can help you create simple-yet-beautiful vignettes for a curated and collected look in your home — for much less! Simpler vignettes call for a bit of character. We are going for a casual-elegant look in our current house and we are still figuring things out. I love to mix old with new items but still enjoy an uncluttered look with a few elegant conversation pieces mixed in.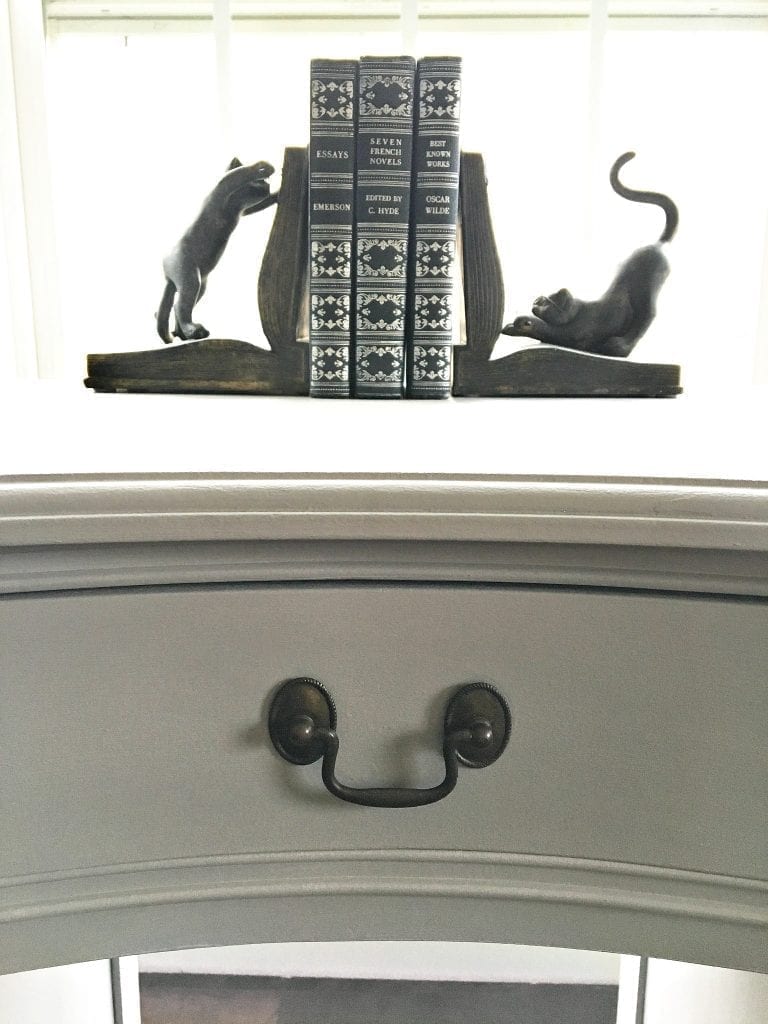 #1: Old Books
Old books win as my #1 go-to thrifted home decorating staple. Many hardback books can be purchased for $1. Antique books with pretty spines usually are around $5. In fact, you'll see old books in most of the photos included in this post.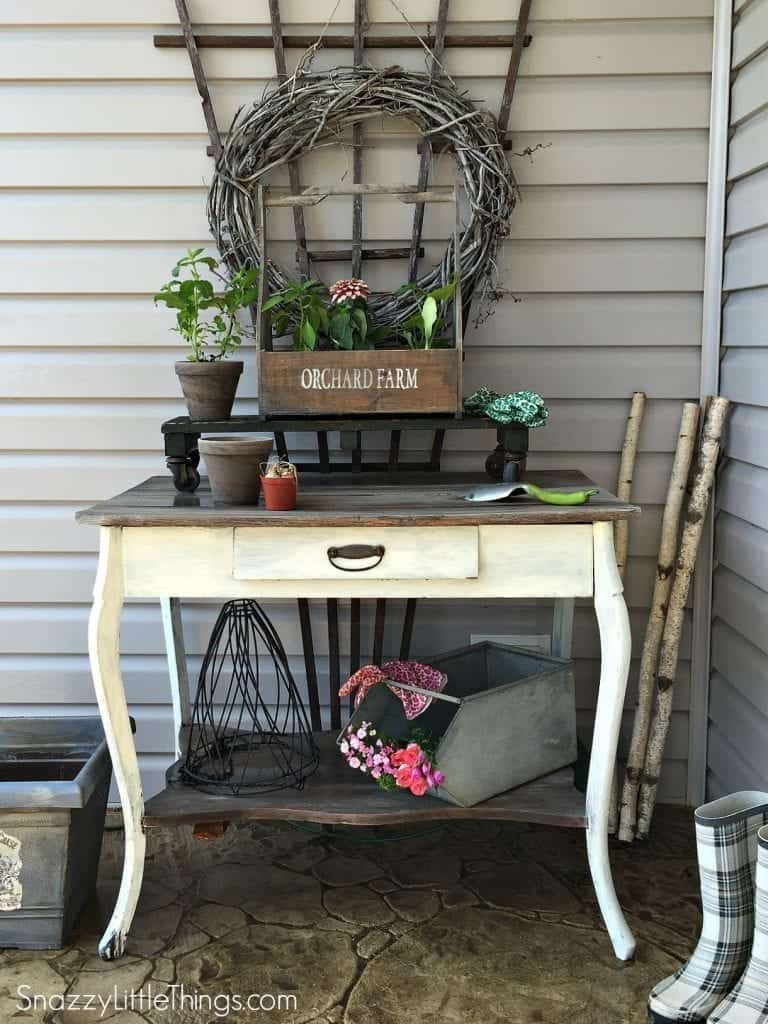 #2: Tables with GREAT Legs
My definition of "good bones" is to look for great legs on tables. I look for fluted or Queen Anne style legs. Oak or pine are my two favorite types of wood that look terrific when stripped. I paint SOME furniture but love natural wood.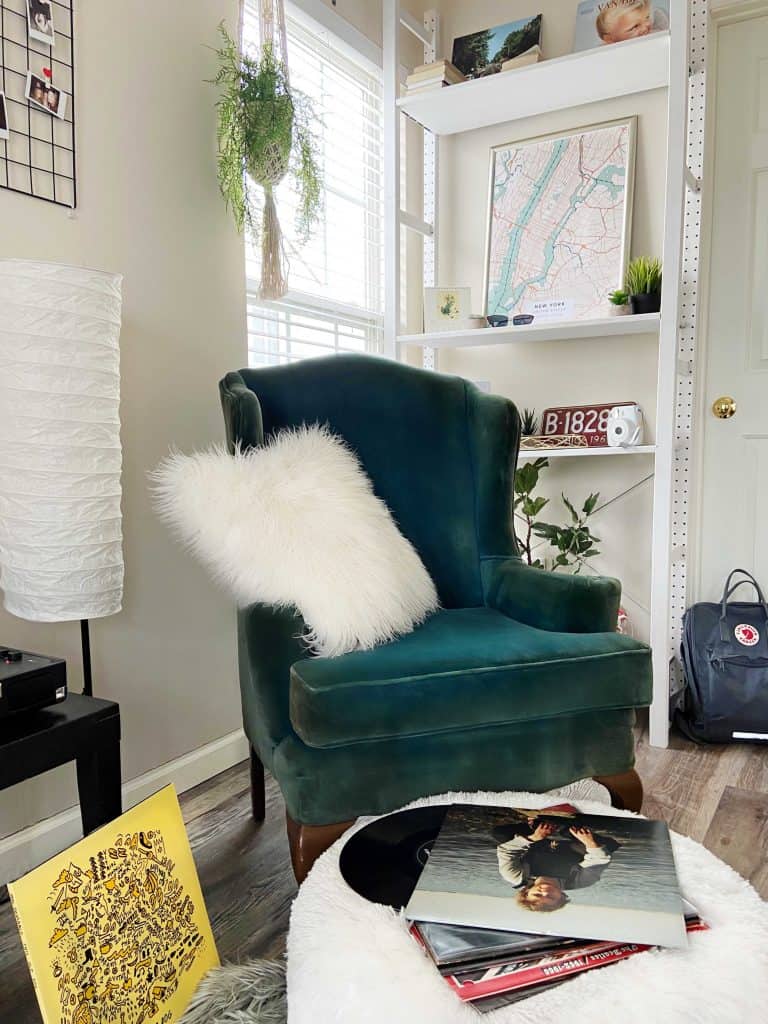 #3: Vintage Ephemera
Postcards, old advertising & records are just plain FUN to shop for and always on my list. Kids want tangible music collections that they can touch and feel. (Music in the cloud just isn't the same!) My kids love to listen to old records (and to decorate with them, too!)
Old post cards as art are a simple way to add color, too.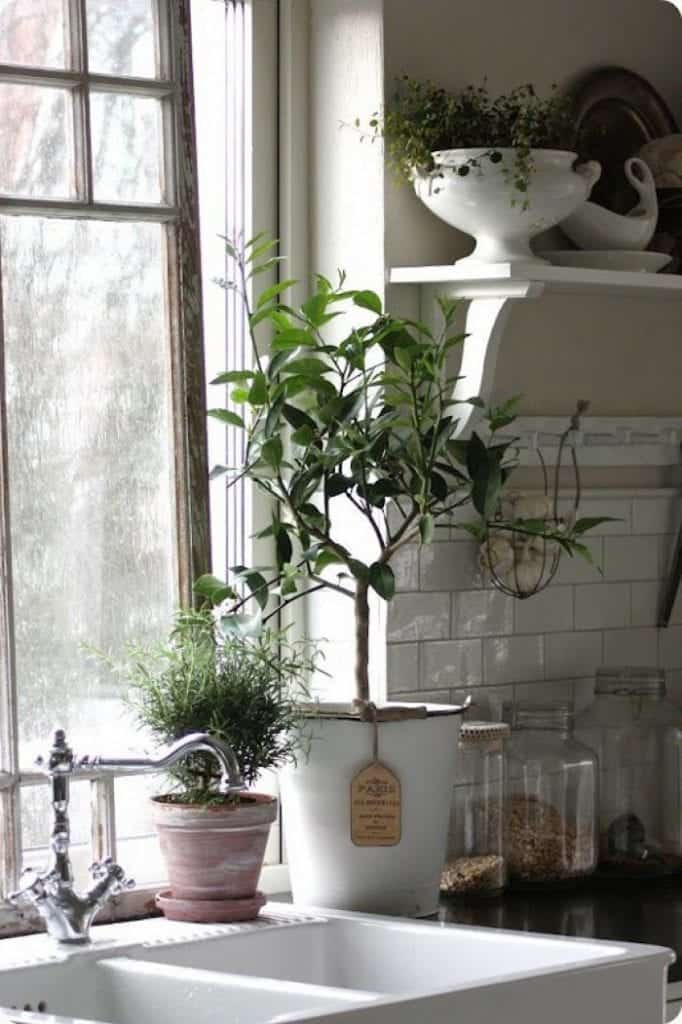 #4: Urns & Pots for Plants
White enamel and clay pots are my favorites. Terra cotta pots are great candidates for whitewashed look to give them a Frenchy-style makeover.
See my tutorial "How to Whitewash Terra Cotta Pots"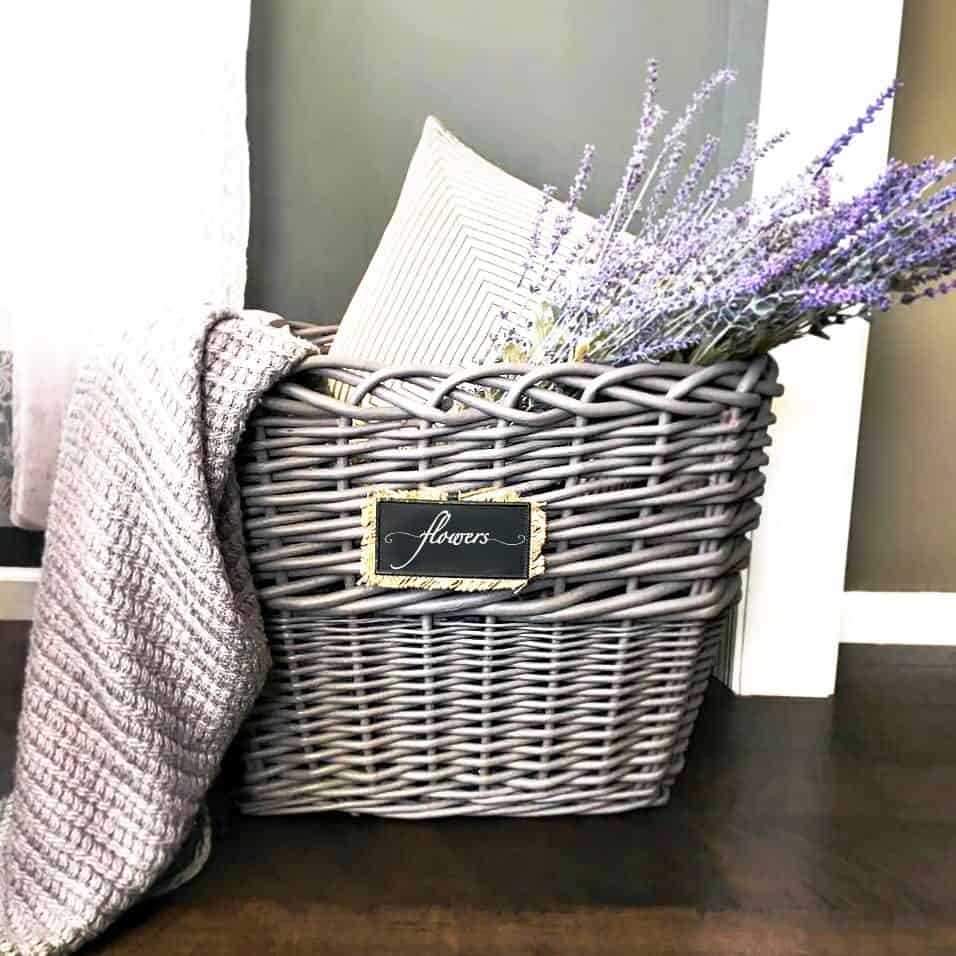 #5: Thrifted Baskets
I go for baskets that have a French farmhouse vibe, so I am a little picky about the baskets I choose. I like to keep them as is, or in some cases I give them a quick coat of paint.
See my easy wicker basket makeover here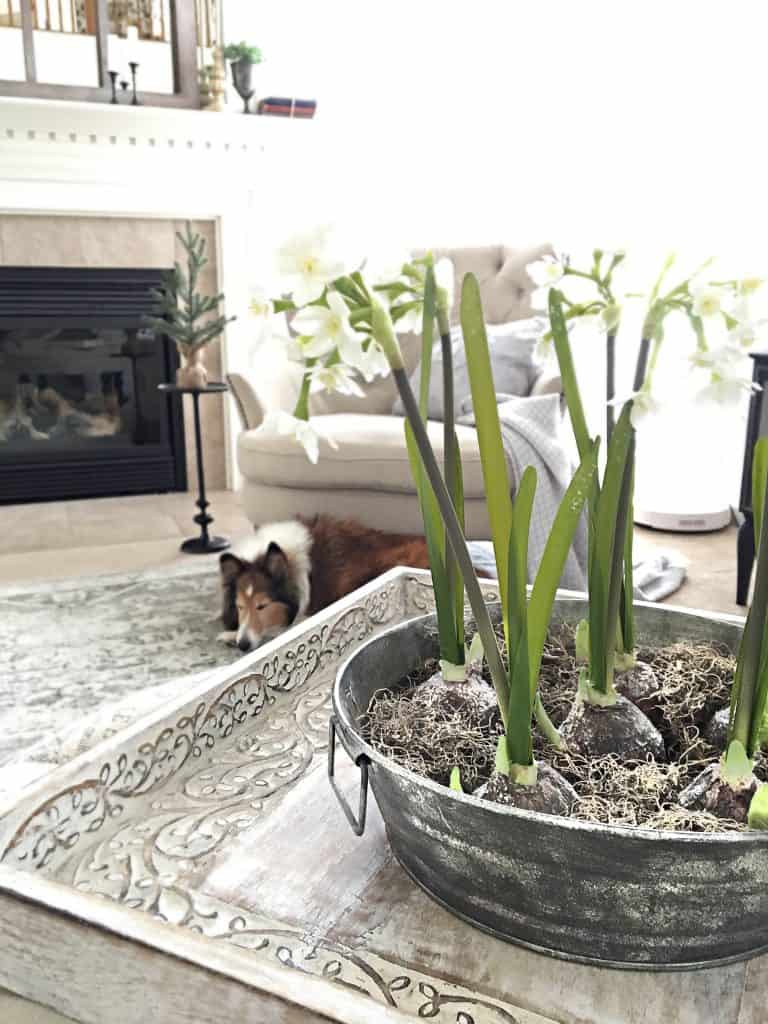 #6: Trays
Trays create a nice focal point and tie a group of unrelated items together perfectly. Often a coat of paint makes them look new again. I love using them and have them in almost every room in my home.
Used in my living room, guest bedroom and our recent guest bathroom makeover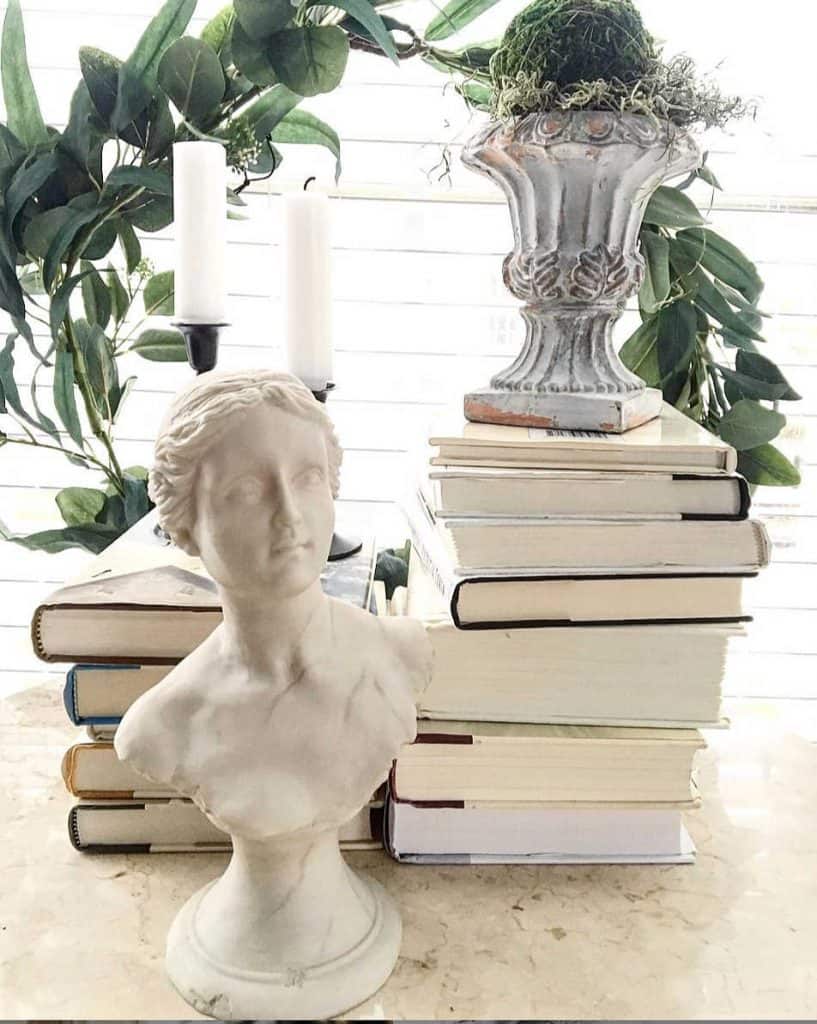 #7: Statues & Vintage Trophies
I found this pretty lady for $12, she's so regal and really amps up our traditional decor. My daughter tried to swipe her for display in her room, too!
#8: Lamps with Potential
Lamp bases with modern shapes can look good without or without a makeover. I always give the lamp department a look. If I can find a matching set, even better.
See my thrifted lamp in my simple bedroom update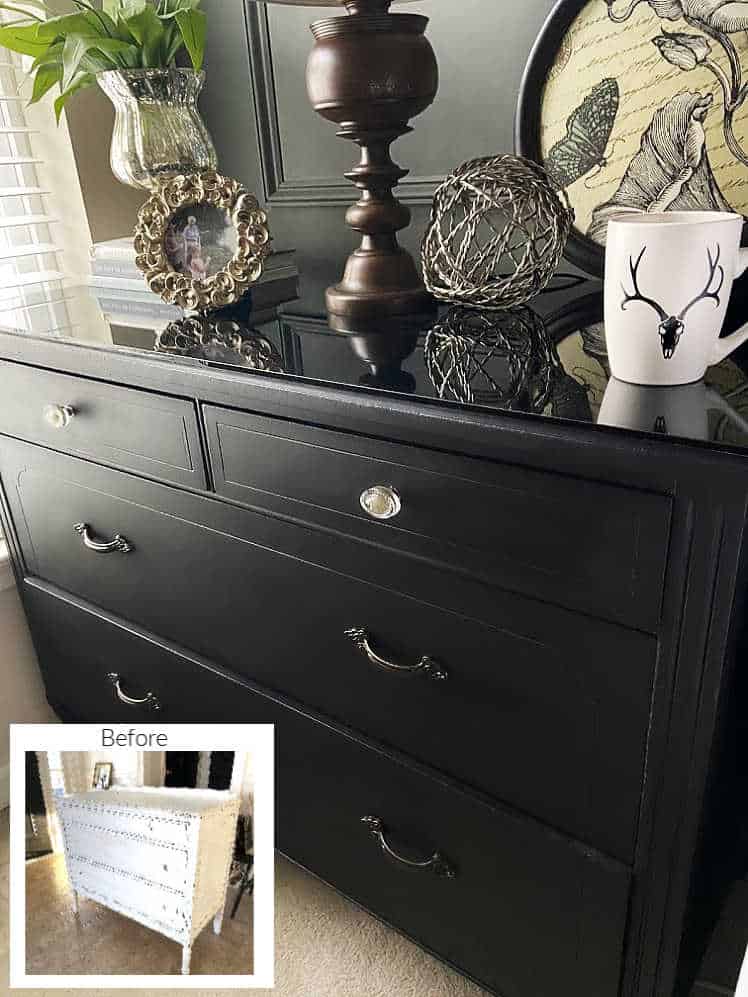 #9: Matching End Tables
Matching night stands, dressers or end tables can be hard to find. If I see two that match, I often use them as night stands. Sometimes I leave them natural, other times they get a coat of paint.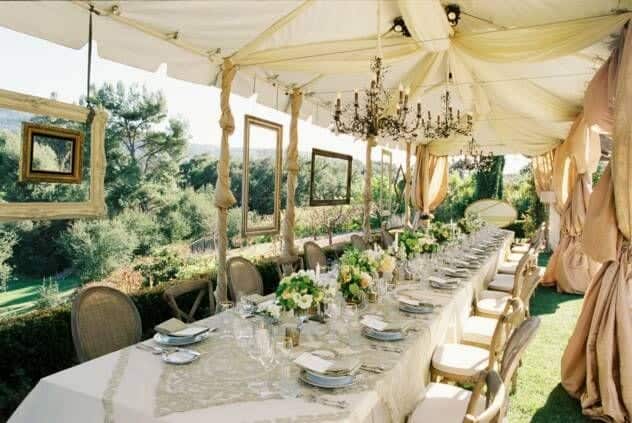 #10: Picture Frames
I used similar frames as these at our wedding, many of them I brought home to use as random decor throughout the house. Most were repurposed them into something new.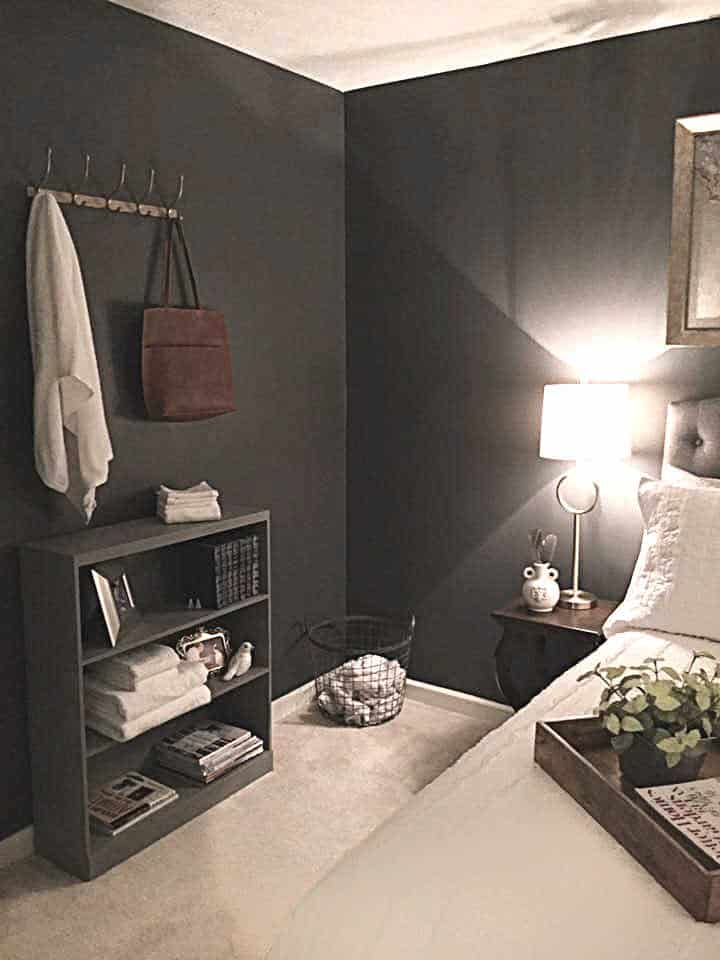 #11: Book Cases
Simple storage solutions are welcome in any space. I found these two not-fancy bookcases for $15 each when I staged a house for a realtor. Later I painted them and they are now in our guest bedroom makeover until I find something nicer. But for now, these work just fine!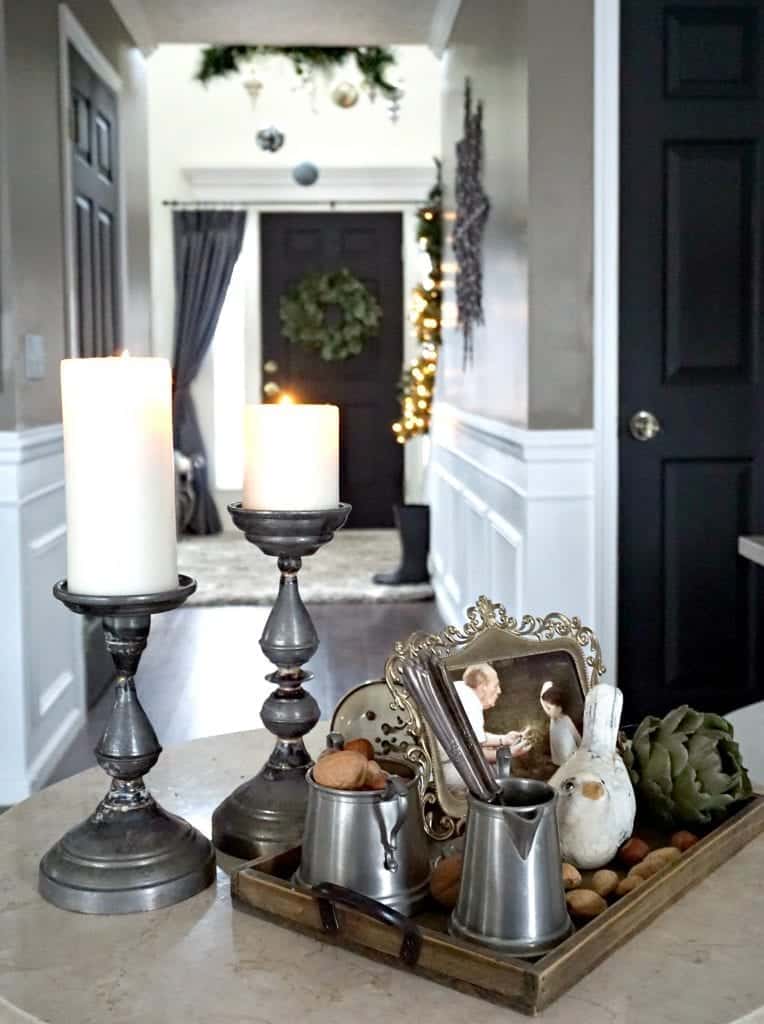 #12: Candle Sticks
Any time I find pretty candlesticks that fit my decorating style I always pick them up. They are the first thing to sell in my antique booths but I always love to switch them up around the house.
My holiday home tour in 2017
#13: Pewter
Pewter is hard to find, but if it has a unique shape and complements my existing style, pewter makes it's way into my cart. This horse has been around for awhile.
#14: On-Trend Mirrors
Sometimes a pretty mirror is all a vignette needs to complete the look. I don't just buy any old mirror. It has to be a pretty shape, a pretty gold or complement my current theme or style.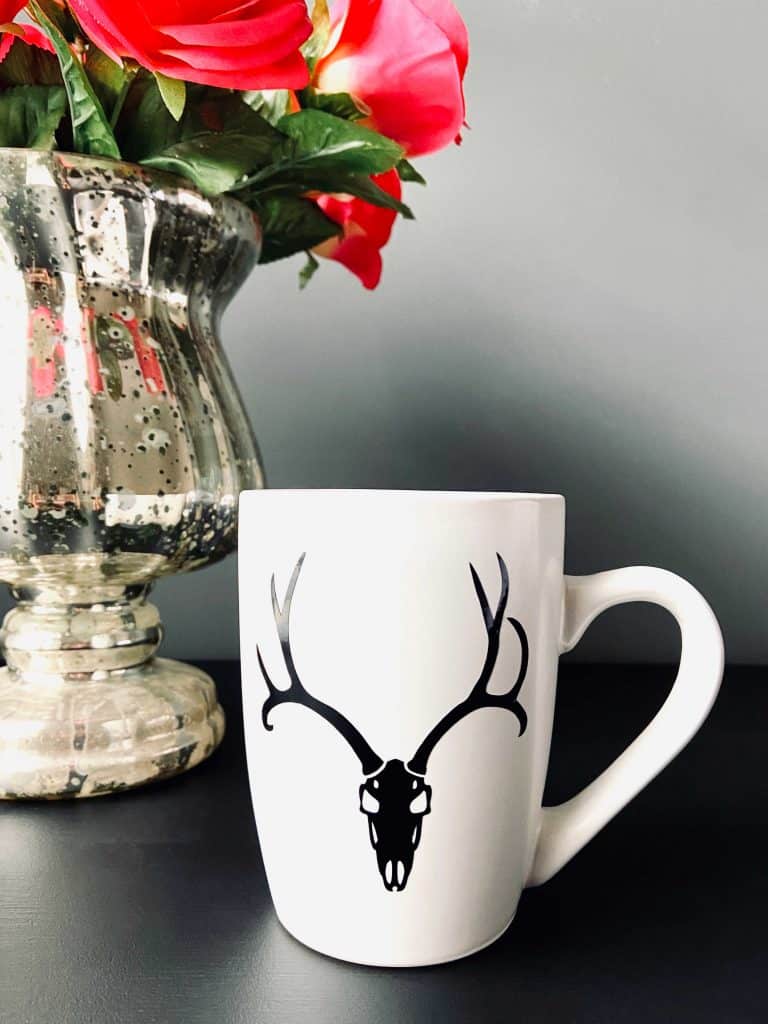 #15: White Ceramics as "Blanks" for Projects
White mugs, plates or pitchers always get a second look so I can use them as crafts, or just display them on their own. I love to experiment with my stencils, or with the Cricut machine.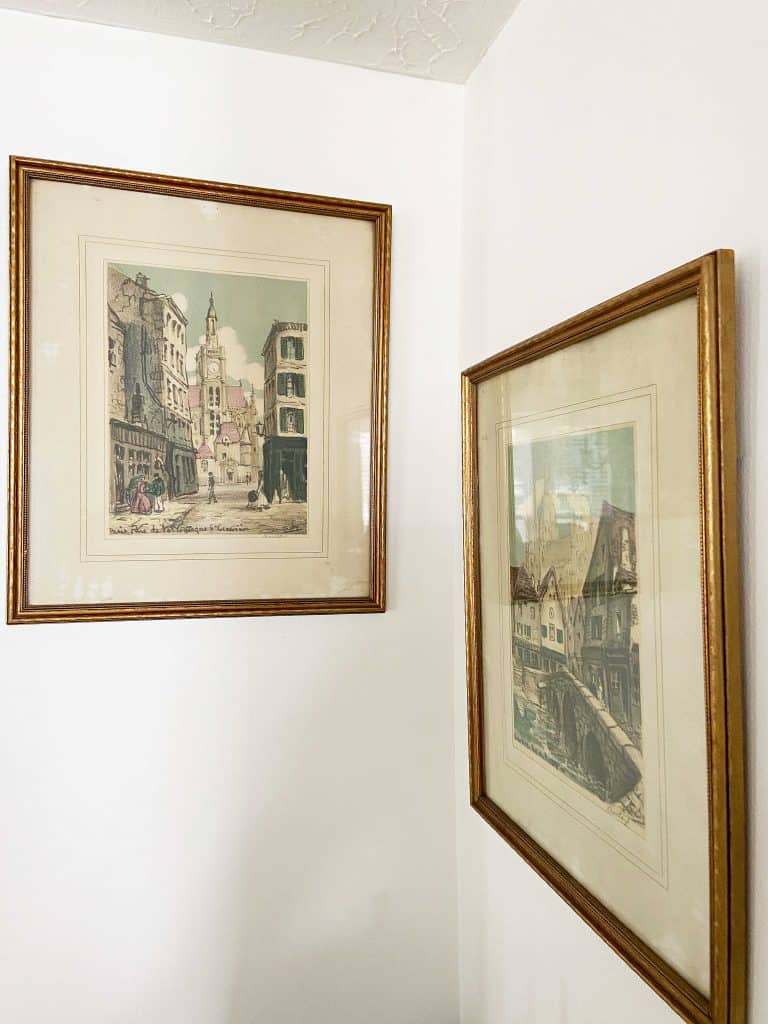 #16: Old Sketch Art
Black and white sketch art is my favorite type of art to frame. If you find them while thrifting, you're lucky! I found these for $5 total and a summer flea market and I found out they are originals drawings by a French artist (Batiste).
If your thrifting comes up short, there are lots of options on Amazon for old sketch art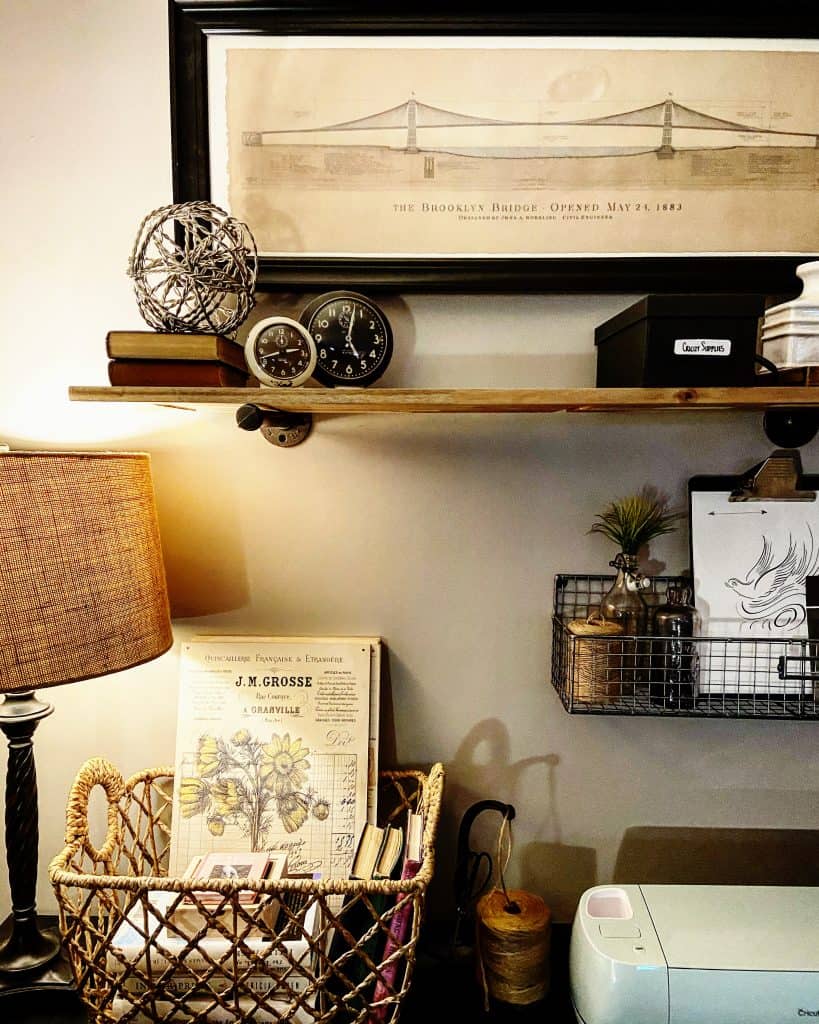 #17: Old Clocks
Baby Ben clocks are some of my favorites to collect. If I ever see one I pick it up and can typically expect to pay around $15. It still adds a punch of vintage character to your spaces.
Shop Baby Ben clocks on Etsy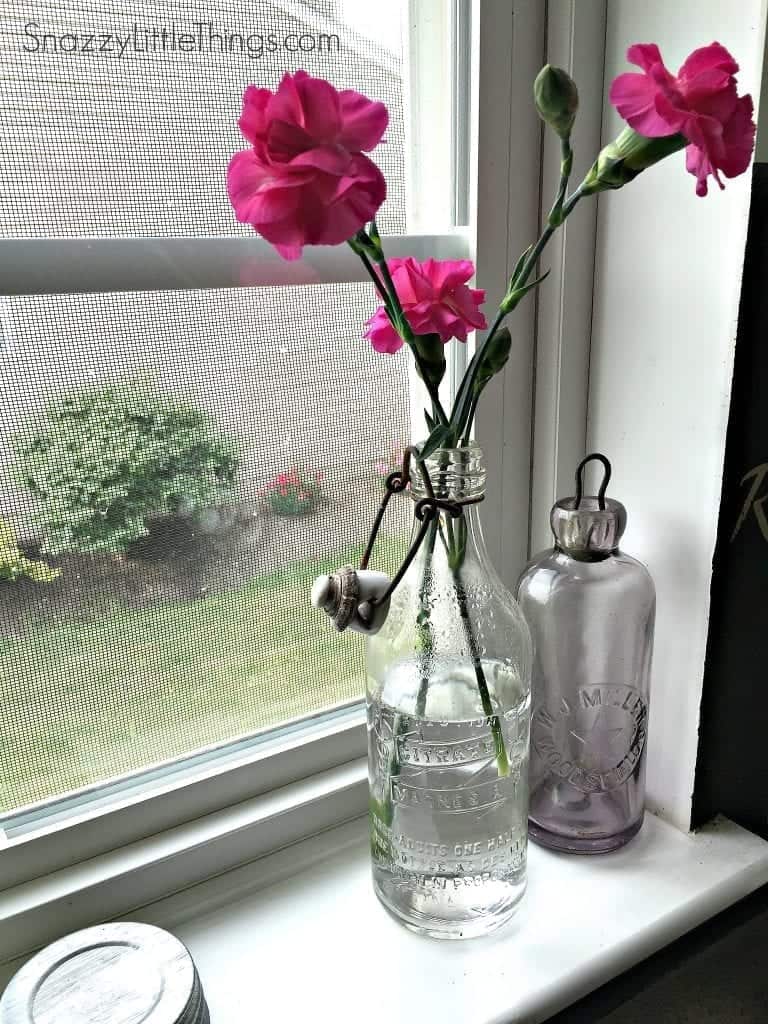 #18: Old Apothecary Bottles
Not quite Mason jars, I am talking about more authentic apothecary bottles with original advertising. If you find these they are likely worth something. If you still love Mason jars, those definitely have a place in farmhouse decor.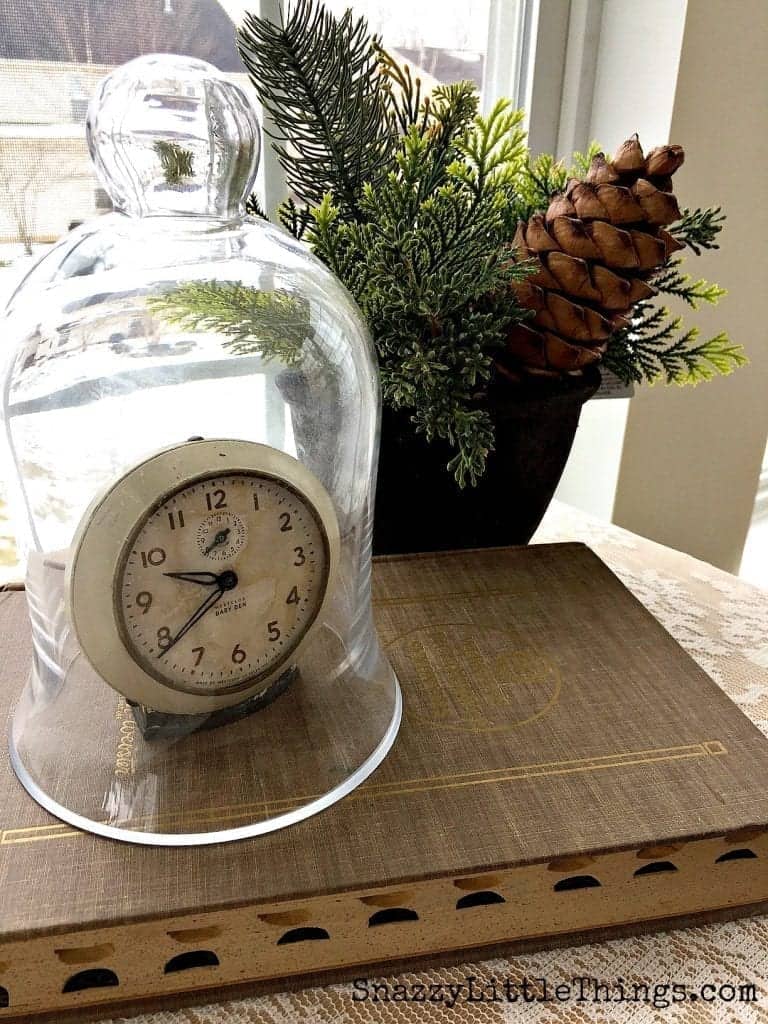 #19: Cloches
These are also hard to find but at times I find some and get excited to display them throughout the home.
Shop cloches on Etsy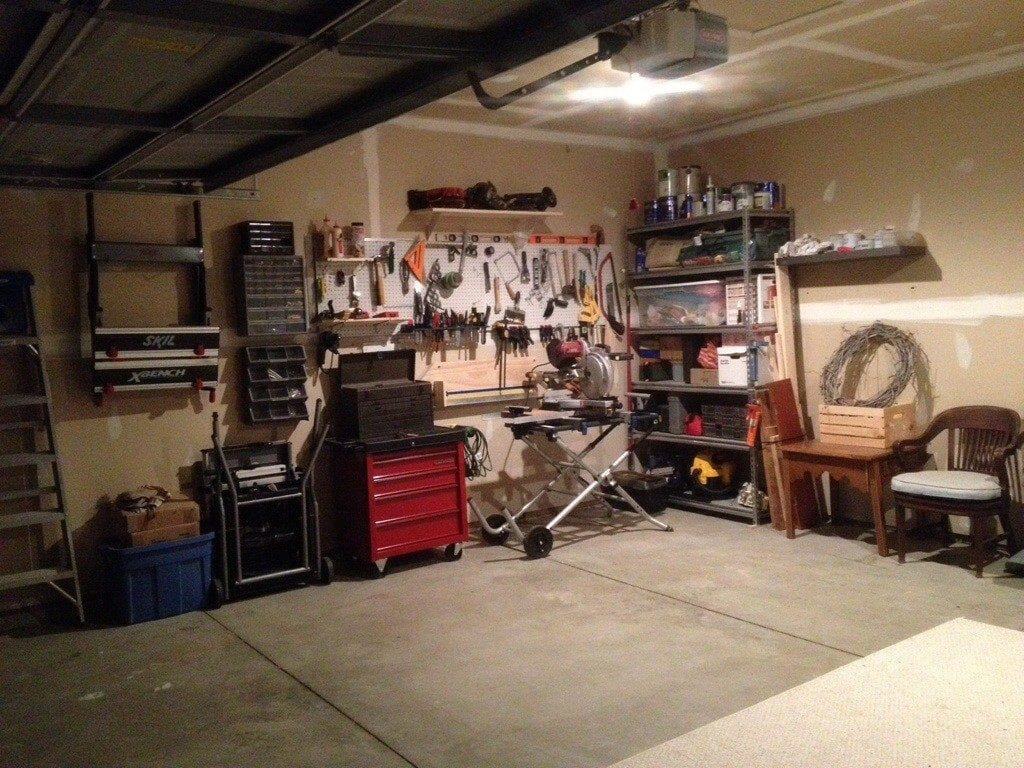 #20: Lightly Used Tools
Mitre saws, brad nailers are our go-to tools that help us finish a variety of projects. Any time we can add a less-expensive, lightly used tools it's a great idea to pick them up.
Things I rarely buy:
soft goods // I avoid pillows, blankets for the home. There are exceptions (my daughter talked me into buying this old chair and after a deep clean it was ok). But on occasion I will find a nice set of curtains that can be washed or reused.
hutches & bulky furniture // generally speaking, we are all simplifying our interiors so oversized furniture is really taking a hit. If I see a piece that is very unique I will buy it. But I do avoid large hutches, TV armoires and stick to mid to smaller sized furniture making it easier to move around when redecorating. I recommend this if you're running an antique booth, also. People like furniture for sure, but I stick to end tables, coffee tables and cash-and-carry size furniture.
Households across the country are looking ways to get organized, making our homes more functional and embracing simpler decorating – without spending a fortune. I see predictions that thrift stores will soon be overwhelmed with new items from this massive purge. Simple DIY ideas and decorating on a budget is having its moment now that many of us are working from home.