Photo: Bymuratdeniz / Getty Images

A forever home deserves a forever bathroom, one that will stand the test of time.
This may mean putting aside any thoughts of laying down miles of pink tile or installing that funky sink shaped like a wooden trough. No, this is one room where the classics should truly reign supreme.
Not sure what "classic" really means when it comes to bathroom design? Think simple, bright, airy, and clean.
Imagine the nicest hotel bathroom you've ever seen: a pretty tub, gleaming chrome fixtures, and stylish yet simple tile in all-white or neutral shades.
As part of our continuing series, "Timeless Home Design Trends," we're covering every room in the house—and the bathroom is up next.
Behold the top 10 timeless trends to install in your loo that will never look dated or need a redo.
1. Black and white
Photo by Spazio LA 
A simple color palette is always the best, most enduring choice, particularly in the bathroom. (How many purple or orange bathrooms have you seen, anyway?)
"Black and white is the most classic color choice by far, because so many tile options can blend seamlessly with it, including subway, hexagon, and penny tiles," says Drew Henry of Design Dudes.
Craving a pop of color? Add bright towels or neon bathroom accessories, like a colorful soap dish or trash can.
2. Free-standing tub
More and more homeowners have turned to stand-alone tubs.
"A free-standing tub is a timeless choice that you won't regret, whether you choose the traditional claw-foot or a more modern vessel shape," says Henry.
"A lingering soak will never go out of style, and the luxurious, elegant look of these tubs elevates any bathroom," adds Ana Cummings of the eponymous design firm.
This acrylic-and-fiberglass pick is 69 inches long, has polished-chrome feet, and can be fitted with either a free-standing faucet or wall mount ($629, Home Depot).
3. Subway tile
Photo by Jess Blackwell Photography 
This kitchen classic spills over to the bathroom, in part because of its popularity among home builders and DIY types.
"It's cheap, cheerful, and most people can install it themselves, which makes it the default for bathroom design," says Cummings.
Fortunately, you don't have to stick with any one layout, as more designers are branching out from stacks of rectangles on the wall.
"You'll also see subway tiles in creative colors and patterns, such as chevron, herringbone, and basket weave," she adds.
4. Penny tile
Subway isn't your only choice when it comes to classic bath tiles. Tiny penny tiles have been around a long time—and they aren't going anywhere.
"Penny is classic, but also offers a retro vibe, and there are so many ways to use it in patterns," says Cummings.
These pretty porcelain circles come in sheets of varying shades of blue, which will give your final design its own, unique look ($9.49 per square foot, Wayfair).
5. Marble
Photo by Urrutia Design
Whether it's used on floors, as a shower base, or a vanity countertop, durable, classic marble is a favorite choice in the bathroom.
Of course, marble is costly, and it's slippery when wet. (So you should lay down a good-size bath mat, with no-skid backing.) However, it's a beauty to wake up to every day.
6. Rain-head showers
Aah, spa! This is the feeling you get when you look up at a rain-head shower.
Water pulsing down through multiple little holes is far preferable to the dribbles from most smaller fixtures.
This easy-to-clean chrome number is great-looking and affordable, and also comes in stainless steel and two shades of bronze ($254.70, Home Depot).
7. All-white bathrooms
Photo by The Hills Group
The most important factor in a bathroom's appeal is cleanliness—and you can achieve this easily if the predominant shade in this space is in the white family.
Dirt, hair, and soap scum are easily identified and swept or scrubbed away, leaving you with the pristine bathroom you deserve.
8. Cool colors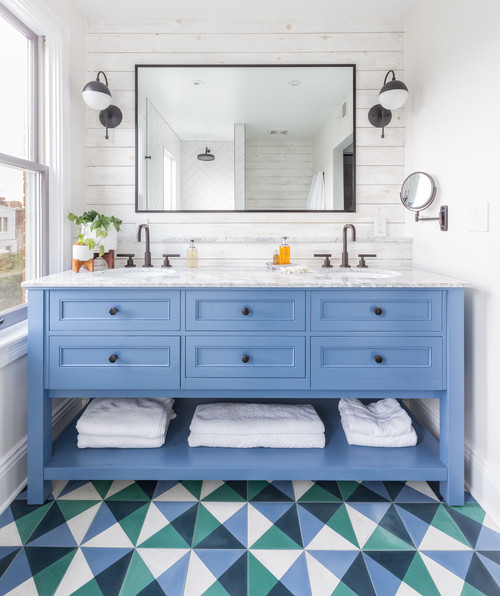 Photo by DesignHAUS 24
The only other bathroom colors that rank as timeless, after whites, are cool blues and greens.
"Watery hues are very popular in spa baths, as they ease the nerves—and in fact, sea blues have been scientifically proven by environmental psychologists to calm people," says Cummings.
9. Hardwood vanities
Does it look like a piece of furniture that you'd display in another room?
If so, you've chosen the right vanity for the bath.
Drawers and a lower shelf give a vanity utility, and the solid hardwood construction offers traditional, timeless appeal ($1,369.99, Wayfair).
10. Simple sconces
You might see a chandelier in a few random bathrooms, but they're not the norm—and they probably won't age well.
Instead, stick with simple schoolhouse-style lights and sconces.
This one fits the bill and comes as a single, double, or triple light fixture in three classic finishes: antique brass, brushed nickel, and polished chrome ($49.99, Amazon).
The post 10 Timeless Bathroom Trends That Will Never Go Out of Style appeared first on Real Estate News & Insights | realtor.com®.