Dan Gentile/Thrillist
A healthy restaurant ecosystem has many components: a charming front-of-house team, cunning managers, and a motley crew of underpaid misfits that are actually cooking your food.
Unless you've worked in a kitchen, it's hard to understand the chaotic dance of a dinner rush. Coded language, constant personality clashes, and thick-as-blood camaraderie are side dishes to every entree you've ever ordered.
To turn the world of cooks into an open kitchen, we asked back-of-house staff from around the country to enlighten us on some of the things that they're always having to explain to their friends who they only get to hang out with on Monday nights.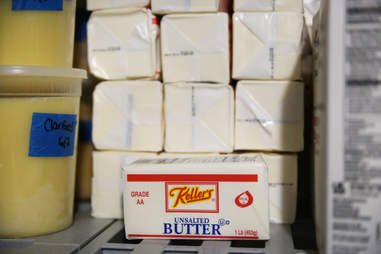 Dan Gentile/Thrillist
Salt and butter are everywhere
But always unsalted butter. Also, half-sticks of butter look downright cutesy compared to 1lb blocks.
 
Cooks don't get tipped out
If you're going by the book, it's illegal to force employees to pool tips for
…
Read More